Descartes acquires Kontainers
Listen to the story (FreightComms AudioPost)
Descartes Systems Group, the global leader in uniting logistics-intensive businesses in commerce, announced that it has acquired Cracking Logistics Limited dba "Kontainers", a leading provider of client-facing digital freight execution platforms.
Headquartered in the UK, Kontainers transforms the customer experience for carriers, freight forwarders and third-party logistics service providers around the world. Kontainers' solutions facilitate a fully digital customer experience including quoting, booking, tracking and dashboard analytics.
The company's digital freight platform enables these logistics services providers ("LSPs") to rapidly create branded state-of-the-art digital experiences for their end customers. Kontainers' technology also helps API-enable LSPs while preserving their investments in existing rate management and back-office systems.
"We've worked very hard with some of the world's top logistics companies to create an optimal digital customer experience," said Graham Parker, co-founder of Kontainers and now VP Sales Digital Freight Solutions at Descartes. "Our team of domain experts is thrilled to combine with Descartes, which will give us the opportunity to reach a broader audience much more quickly. When added to the Global Logistics Network, we'll also have the ability to offer a pre-integrated solution that combines Kontainers digital freight execution with Descartes' rate management and forwarder enterprise systems"
"The last few months have shown how quickly the world can change, and the shift to digitization is accelerating as a result," said Edward J. Ryan, Descartes' CEO. "Logistics services providers operate on tight margins. Those that don't move quickly to digitize their customer experience will be faced with higher costs to serve. Without the proper real-time connections between client-facing platforms and the quoting, rating and booking systems that this digitization brings, LSPs will struggle to efficiently meet customer demand in today's dynamic market. We're looking forward to working with the Kontainers customers, partners and team of domain experts to help the logistics community capitalize on this opportunity."
Kontainers is headquartered in the UK. Descartes acquired Kontainers for total consideration of up to $12m, with up-front consideration of $US 6.0 million, plus potential performance-based consideration. The up-front consideration was satisfied from cash on hand. The maximum amount payable under the all-cash performance-based earn-out is $US 6.0 million, based on Kontainers achieving revenue-based targets in each of the first two years post-acquisition. Any earn-out is expected to be paid in fiscal 2022 and fiscal 2023.
Freight association welcomes further funding for customs training
Listen to the story (FreightComms AudioPost)
The British International Freight Association, the trade association that represents UK freight forwarding and logistics companies, says that it hopes the package of measures unveiled by HMRC recently to accelerate growth of the UK's customs intermediary sector is successful.
Director General, Robert Keen says: "Whilst we welcome the additional funding, as we did when the first two rounds of funding were announced, we can only keep our fingers crossed that it produces the thousands of additional customs experts that the government agrees will be needed come January 1st 2021.
"During our regular meetings with both HMRC and HM Treasury, BIFA has highlighted the concerns of our members regarding the capability of the Customs brokerage sector to increase capacity, at a time when that sector already faces a huge shortage of staff of suitable quality.
"We have regularly emphasised that it could take up to a year to train staff to be fully conversant to prepare a range of basic Customs declarations, even if there was a sufficient number of trainers to train those staff, as well as relevant courses for them to attend.
"Clearly the Government is finally getting the message that increased capacity in this sector will be important whatever our future relationship with the EU."
The scheme represents a new round of funding for employee training and IT improvements for customs intermediaries, traders and hauliers that make customs declarations to help them prepare ahead on January 1st 2021.
BIFA says the new funding could be used to support a business that is extending and taking on new staff, or to help train an existing employee to start completing customs declarations for the company.
Training can be delivered by an external provider, or an in-house trainer.
As one of the largest providers of Customs-related training courses, BIFA decided to replicate almost its entire course range and deliver it via video conferencing, due to the Covid-19 crisis preventing face-to-face training.
Keen concludes: "Government guidance allows furloughed employees to engage in training, provided that whilst undertaking the training the employee does not provide service to, or generate revenue for, or on behalf of, their organisation.
"Hence, we are encouraging members that have furloughed employees to take advantage of the additional funding that has been made available by applying for it to finance some of BIFA's online Customs training opportunities for those employees, as well as employees that have not been furloughed."
BIFA understands that HMRC will unveil more details in due course and is reminding its members that applications for the new funding will be open from July 2020.
CEVA Logistics acquires AMI Worldwide
Listen to the story (FreightComms AudioPost)
CEVA Logistics is launching a three-part expansion plan for the African market, through which it aims to become a leading, continent-wide market player.
With the acquisition of AMI Worldwide, CEVA Logistics is accelerating its expansion in East and Southern Africa
CEVA Logistics has acquired a controlling shareholding in AMI Worldwide, a third-party logistics provider with an extensive network in East and Southern Africa, which has more than 100 years of expertise in the region.
Effective July 1st, the AMI Worldwide office network in 12 countries in East and Southern Africa and its almost 1,000 employees will join the CEVA global network. They will provide a platform for further investment and expansion throughout the continent, with the objective of offering CEVA's customers a seamless network, facilitating cargo movement within Africa and strengthening trade ties with the rest of the world.
CEVA Logistics is integrating three CMA CGM Inland Services facilities and opening its own new operations
Three CMA CGM Inland Services (CCIS) facilities are also joining CEVA's network in Mali, Burkina Faso and Ivory Coast. These intermodal sites provide a launch platform for the company's freight management ambitions. They offer freight forwarding services in addition to their full range of inland solutions related to container fleet management and ocean freight value-added services such as "Reefer" (refrigerated container) management services, stuffing and de-stuffing of containers, dry port and container depot functions. These entities keep their close relationship with CEVA's parent company, the CMA CGM Group, a world leader in shipping and logistics, which enjoys a historically strong continental presence.
CEVA is also expanding in Mauritania, where a direct presence has been established with extensive expertise in transit corridor operations, and in Ethiopia, where a new joint venture with MACFAA will be integrated into the CEVA network once all regulatory approvals are obtained.
CEVA presses ahead to achieve its goal of becoming a market leader in Africa
With these new strategic investments, CEVA is greatly expanding its capabilities in Africa, where it is able to provide a full range of logistics services to meet the rapid growth of the retail and consumer goods markets there. Simultaneously, it is able to link its customers to its strong global network alongside its best-in-class services and unmatched expertise.
In total, CEVA Logistics in Africa will represent:
A presence in 41 countries through 79 offices;
1,300 staff members;
19 full-service warehouses providing 135,000 square meters of storage capacity;
A fleet of 1,500 trucks
Mathieu Friedberg, Chief Executive Officer – CEVA Logistics, states: "Businesses across the African continent enjoy significant growth prospects and logistics solutions are crucial to materializing these opportunities, by ensuring supply chains work well and trade flows run smoothly. With our strategic, continental expansion plan, CEVA will play an integral part in supporting the continent's socio-economic emergence, offering our customers our full range of tailored, innovative solutions along with our recognized expertise and our operational excellence. In so doing, we aim to become a leading, continent-wide market player. From December 2020, CEVA Logistics will become the single brand representing all our activities in Africa."
Countries served directly by CEVA in Africa now comprise:
West coast: Burkina Faso, Ivory Coast, Mali, Mauritania
Central Africa: Angola, Democratic Republic of Congo
Southern Africa: Botswana, Malawi, Mozambique, South Africa, Zambia, Zimbabwe
Eastern Africa: Burundi, Djibouti, Ethiopia, Kenya, Rwanda, Tanzania, Uganda
Rhenus Air & Ocean opens new Liège Airport hub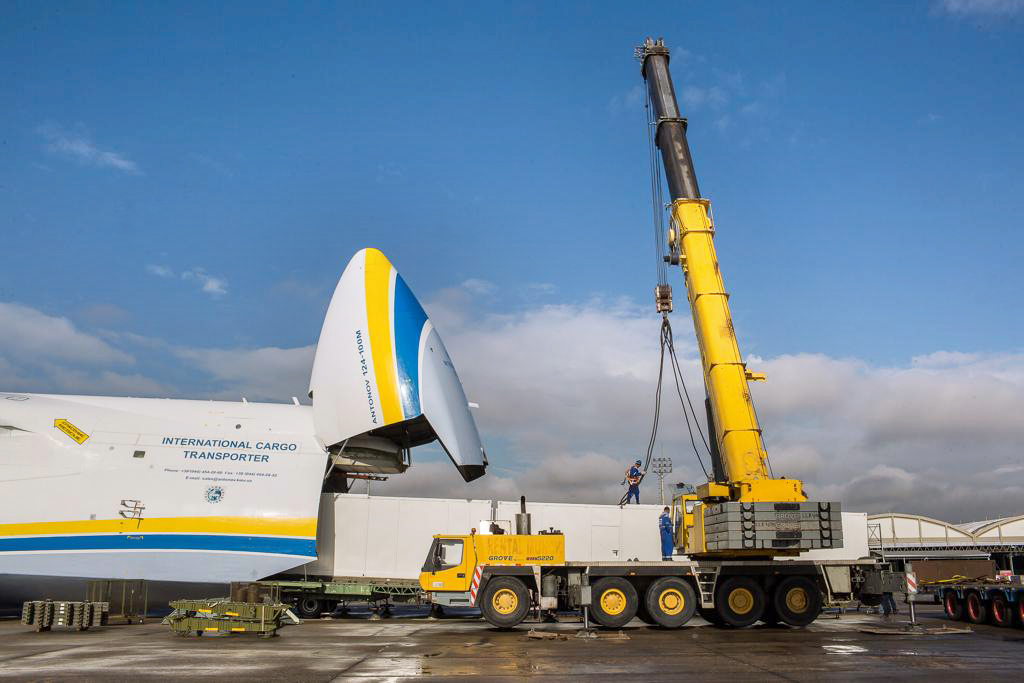 Listen to the story (FreightComms AudioPost)
Rhenus Air & Ocean has opened a new hub at Liège Airport, as part of a strategic move that sees the company position itself perfectly within the 'golden triangle' between Amsterdam, Frankfurt and Paris. The new hub, which offers a portfolio of freight forwarding solutions, expands the company's global air freight network.
Handling more than 900,000 tonnes of transported goods every year, Liège Airport is the fastest-growing cargo airport in Europe. A multitude of large airfreight and charter lines, such as Qatar Airways and AirBridgeCargo, use LGG as a European gateway to the rest of the world. 
Frank Roderkerk, CEO of Rhenus Air & Ocean Northern Europe, comments: "In addition to attractive flight schedules, LGG has excellent multimodal connections. This will enable us to offer customers more air and rail freight products, as well as sea freight products in the future. Several trains a week connect Liège with China along the land bridge, including Yiwu and Zhengzhou." 
Future plans for the new Rhenus Air & Ocean Liège hub will see goods transported via key air, ocean and rail routes, while customs clearance and fiscal representation capabilities will also be available. In addition to its new hub, Rhenus offers the storage of goods within its Belgium network in the ports of Genk, Antwerp and Brussels and at Brucargo.