Drone Delivery Canada announces commercial agreement with GlobalMedic for first Covid-19 project 
Listen to the story (FreightComms AudioPost)
Drone Delivery Canada Corp is pleased to announce that with the assistance of Air Canada and the Pontiac Group, it has entered into a commercial agreement with The David McAntony Gibson Foundation o/a GlobalMedic to deploy DDC's patented drone delivery solution to provide service to the Beausoleil First Nation Community in Ontario. Funding for the project was received by donors, including from OEC Group, a leading global logistics provider servicing clients in all major industries including aerospace, healthcare, global retail, automotive and manufacturing.
Pursuant to the terms of the Agreement, DDC will enable a defined two-way delivery flight route from/to BFN mainland to/from the BFN Christian Island utilizing the Sparrow drone and its DroneSpotTM takeoff and landing zones as well as additional drone flight infrastructure as required.
All operations will be conducted in accordance with the Canadian Aviation Regulations and Transport Canada flight authorizations. Flights will be remotely monitored by DDC from its new commercial operations centre located in Vaughan, Ontario. DDC will commence deployment of site infrastructure shortly and expects to begin providing drone delivery services under the Agreement in Q3 of 2020.
BFN will use DDC's Sparrow drone solution to limit person-to-person contact on its island ferry service by transporting COVID-19 related cargo such as personal protection equipment (PPE), hygiene kits, test kits, test swabs, etc.
The Agreement provides for the payment of an up-front, fixed-fee for managed services for the project.  The term of the Agreement is six months.
"We are pleased to announce GlobalMedic as another paid commercial drone logistics customer.  The Beausoleil First Nation community will benefit from our drone delivery solution during the COVID-19 pandemic by limiting person-to-person contact between the mainland and Christian Island, while keeping their supply chain open.  Our solution is ideal for this application and we look forward to seeing the benefits for the Community," said Michael Zahra, President & CEO of DDC.  "To our knowledge this is the first announced COVID-19 related drone logistics project working with a humanitarian aid agency in Canada.  We are grateful to GlobalMedic, OEC Group and other generous donors for their sincere concern for First Nations communities, involvement in this project and embracing our drone technology as a solution."
"GlobalMedic is proud to be part of this program using drones to deliver desperately needed aid to an isolated First Nations Community. Through consultation with the Community we understand that supply chain issues exist and have been exacerbated by COVID19. We are excited to use drones as part of the solution to overcome these challenges. We have a well-known history of using drones to respond to crisis zones having deployed our drone teams to dozens of countries using our award winning RescUAV program. We thank the OEC group and other donors to help fund this project and look forward to seeing DDC drones in the air delivering lifesaving aid to our friends in Beausoleil First Nation," said Rahul Singh, Executive Director at GlobalMedic.
"DDC and OEC have been looking for an opportunity to partner. When the chance popped up to help the Beausoleil First Nation community, it was an easy decision to make," said Landon Bibeau, CMO of the OEC Group. "The community is in a remote area where medical resources and services are limited. Especially during the COVID-19 pandemic where human to human contact is sometimes difficult. We are truly grateful to be part of this project and look forward to bringing essential goods to the Beausoleil First Nation."
Rhenus Air & Ocean opens new Liège Airport hub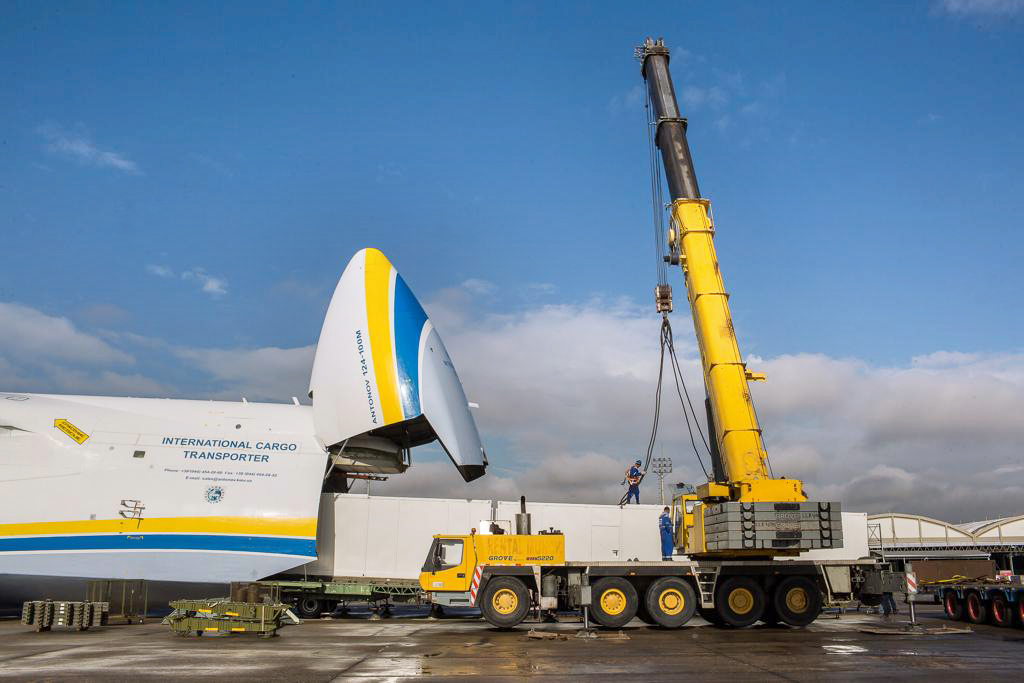 Listen to the story (FreightComms AudioPost)
Rhenus Air & Ocean has opened a new hub at Liège Airport, as part of a strategic move that sees the company position itself perfectly within the 'golden triangle' between Amsterdam, Frankfurt and Paris. The new hub, which offers a portfolio of freight forwarding solutions, expands the company's global air freight network.
Handling more than 900,000 tonnes of transported goods every year, Liège Airport is the fastest-growing cargo airport in Europe. A multitude of large airfreight and charter lines, such as Qatar Airways and AirBridgeCargo, use LGG as a European gateway to the rest of the world. 
Frank Roderkerk, CEO of Rhenus Air & Ocean Northern Europe, comments: "In addition to attractive flight schedules, LGG has excellent multimodal connections. This will enable us to offer customers more air and rail freight products, as well as sea freight products in the future. Several trains a week connect Liège with China along the land bridge, including Yiwu and Zhengzhou." 
Future plans for the new Rhenus Air & Ocean Liège hub will see goods transported via key air, ocean and rail routes, while customs clearance and fiscal representation capabilities will also be available. In addition to its new hub, Rhenus offers the storage of goods within its Belgium network in the ports of Genk, Antwerp and Brussels and at Brucargo.
GEODIS transports 50 million disposable medical gloves from China to Germany for the German Government
Listen to the story (FreightComms AudioPost)
The international logistics provider GEODIS is ensuring the safe transport of the cargo from China to Germany. The Freight Forwarding unit of GEODIS in Germany won this major contract of 275 tons in a public tender from the German Government. Around 50,000 boxes of gloves will be transported in five shipments from Chengdu, in the Chinese province of Sichuan, to Frankfurt and Nuremberg by Airfreight and Rail.
The air and rail transportation solution, which GEODIS developed in close cooperation with all partners, includes the continuous monitoring of the shipments.
Employees of the Chinese supplier watch over the dispatching and loading of the containers at the Sichuan Medicines & Health Products I./E. Corporation's production facilities in Shendong, where the certified goods are manufactured.
The GEODIS teams in China and Europe monitor transport from Chengdu to the destinations in Germany. So-called GEOtags are used for the containers, which enable live tracking via GPS.
The first airfreight shipment from Chengdu Airport to Frankfurt took place on May 19. This first partial delivery consisted of 2.5 million disposable gloves, packed in 2,500 boxes weighing almost 15 tons. In Frankfurt, GEODIS employees packed the goods on 40 pallets, cleared customs and prepared them for collection.
The first of the four shipments by rail departed from Chengdu to Nuremberg on May 21. Loaded in 40-foot containers, 9,000 boxes with around nine million gloves arrived last weekend.
Four more containers left Chengdu on May 28 and June 4. New ones will follow on June 18, and 25. The final shipment is planned to arrive in Nuremberg on July 11.
With its combined transport solution, GEODIS guarantees maximum flexibility in order to be able to react quickly to changes in the supply chain.
The international law firm Berg & Moll, which is specialized in projects for the Belt and Road Initiative, is responsible for contract execution and project monitoring.
The transport of medical protective clothing currently involves high risks. Reduced transport capacities, short-term cancellations or changes in modes of transport, strict quality controls and purchasers who do everything they can to intercept goods while they are in transit make the whole process difficult. Claudia von Selle, partner at Berg & Moll, praised the effective teamwork: "Thanks to the great commitment of our Chinese partner and the GEODIS teams in China and Europe, all hurdles were quickly overcome."
In Germany, the team around Antje Lochmann, Managing Director of GEODIS Freight Forwarding Germany, is coordinating all the activities involved in the contract.
"As a response to the new requirements and demands, GEODIS has developed a dedicated concept for transportation of medical protective clothing, and we are particularly pleased to be able to support the German Government with this know-how."
Amazon air expands aircraft fleet
Listen to the story (FreightComms AudioPost)
Amazon continues to adapt to meet the changing needs of customers by investing in ways to provide fast, free delivery. The company announced the lease of 12 Boeing 767-300 converted cargo aircraft from Air Transport Services Group.
These aircraft will join Amazon's existing fleet of 70 aircraft to bring its total network to over 80 aircraft. One of the new aircraft joined Amazon's air cargo operations in May 2020, with the remaining 11 to be delivered in 2021.
Amazon Air's fleet expansion comes at a time when people in communities across the country continue to adjust to this unprecedented time, with many relying on having the items they need delivered directly to their doorstep.
Amazon Air has played a central role during the COVID-19 pandemic by transporting essential PPE supplies for Amazon associates, frontline health workers and relief organizations across the U.S., all while maintaining capacity for regular cargo operations to ensure customers continue to receive the items they need. Now, with expanded cargo capacity to come, Amazon will continue to meet evolving demand and a growing customer base.
"Amazon Air is critical to ensuring fast delivery for our customers – both in the current environment we are facing, and beyond," said Sarah Rhoads, Vice President of Amazon Global Air. "During a time when so many of our customers rely on us to get what they need without leaving their homes, expanding our dedicated air network ensures we have the capacity to deliver what our customers want: great selection, low prices and fast shipping speeds."
"We are proud to continue to evolve our partnership with Amazon to support the fast, free delivery for which they are famous," said Rich Corrado, President and CEO of ATSG. "Our combined experience in the industry and access to a fleet of 767 cargo aircraft make us an ideal partner to support the growth of Amazon Air's fleet."
Amazon continues to expand on-the-ground operations in addition to aircraft. Amazon will open new Regional Air Hubs at Lakeland Linder International Airport in Florida later this summer and at San Bernardino International Airport next year, along with the central Amazon Air Hub at the Cincinnati/Northern Kentucky International Airport in 2021.
In May, Amazon Air began Gateway operations at Austin-Bergstrom International Airport in Austin, Texas, and Luis Muñoz Marín International Airport in San Juan, Puerto Rico. Since Amazon Air's launch in 2016, Amazon has invested hundreds of millions of dollars and created thousands of new jobs at Amazon Air locations across the U.S.