Kale Logistics Solutions steps-up to help the Logistics Industry in COVID-19 pandemic with innovative digitization service – PING
Listen to the story (FreightComms AudioPost)
Kale Logistics Solutions, a trusted IT Logistics partner for Fortune 500 companies worldwide, is offering a wide range of e-services solutions for the Logistics Industry. This is to facilitate tackling of the current COVID-19 scenario worldwide and ensure business continuity. Ground Handlers and freight forwarders are at the forefront of document processing for freight movement. In order to facilitate operations for both these stakeholders, Kale has introduced an innovative service- PING.
Due to the ongoing COVID-19 outbreak, air traffic has been shunned globally in more than 100 countries. Only transportation of essentials and medical supplies are permitted. This is causing sharp revenue falls, enterprises moving to bankruptcies, and staff not reporting to work due to lockdown and fear of contracting COVID-19. This, in turn, has resulted in resource shortage which seeks multi-tasking of the few resources available in the field.
The processes in Air Cargo are traditionally burdened with a lot of paperwork and manual operations. PING is a state-of-the-art digital service facilitated by Kale to remove the burden of administrative tasks and facilitate e-Airway Bill (creation and filing) without any hassles. PING enables the conversion of pdf copies of AWB directly into industry-standard messages as well as APIs using advanced technology like ML and RPA. It enables operational efficiency, reduced staff interactions with people at the counter, lower cost of data with no errors, reduced vehicle congestion, and compliance to the e-AWB process.
Kale is offering a free trial of PING service in order to support Ground Handlers, Self-Handling Airlines, and Freight Forwarders to continue with their business operations. Also, no upfront investment is required to begin using this service. Right from enabling remote working to automated handling and ensuring data accuracy, PING offers robust solutions for business continuity despite the ongoing crisis.
Emphasizing the e-service initiative, Amar More, CEO of Kale Logistics Solutions said, "We stand by the industry during these tough times and would like to offer these business continuity services to the Air Cargo Industry. Kale understands that the industry has limited ability to invest in new tools in such trying times, so it has taken upon itself to offer a completely cloud hosted, outcome-based service model with zero upfront investment for its e-services. These cloud-enabled services reduce cargo-handling time with automation. We are experiencing a tremendous demand for these e-services which are so pertinent in these pandemic times. PING is an extremely easy configurable service.
He further added, "Our research has shown that the Air Cargo industry can save between 15-20% of its administrative costs related to AWB processing by using this service in addition to keeping business continuity and employee safety in these difficult times.
SWISS to add new intercontinental destinations to its cargo-only network
Listen to the story (FreightComms AudioPost)
Since the end of March, SWISS and its Swiss WorldCargo division have operated more than 200 cargo-only flights, transporting over 4,000 tonnes of cargo between Asia and Switzerland. Most of the goods transported included medicines and medical supplies to support Switzerland and its population.
By including further intercontinental destinations to the SWISS route network, the company's airfreight division, Swiss WorldCargo, can expand its services and, as of 15 May, will also offer frequent flights to Hong Kong (twice weekly), New York JFK (four times weekly) Johannesburg (weekly, performed initially by Edelweiss as cargo-only flight and from June by SWISS) and Mumbai (thrice weekly).
At the end of June, another 160 cargo flights are expected to be carried out on behalf of various private companies and public institutions. These will include the first-ever services to destinations such as Toronto and Shenzhen. The first of four such flights from Zurich to Toronto was conducted on 12 May, and ten cargo-only flights will be operated to Shenzhen from 22 May onwards. All these services will be performed with Boeing 777-300ER aircraft.
In addition, preparatory work is underway for the conversion of 4 Boeing 777-300ER. The Economy Class seats would be removed in order to increase the cargo volume on the aircraft.
innoAviation helps air carriers track critical COVID-19–related PPE shipments with Descartes' ULD tracking solution
Listen to the story (FreightComms AudioPost)
Descartes Systems Group, the global leader in uniting logistics-intensive businesses in commerce, announced that innoAviation Limited, a leading unit load device (ULD) leasing and services provider, is using the Descartes CORE™ ULD Tracking solution as part of its service to help air carriers track critical COVID-19–related personal protective equipment (PPE) shipments.
A significant percentage of air cargo coming from Asia today is PPE to fight COVID-19. Combined with an imbalance of ULDs, air carriers are challenged to move critical freight.
innoAviation is leasing air carriers ULDs with Descartes Bluetooth Low Energy (BLE) tags and using Descartes CORE ULD Tracking to track shipments and better manage the ULDs. The cloud-based tracking solution supports social distancing because it provides air carriers with shipment visibility while working from home.
"The combination of our ULDs and the Descartes CORE ULD Tracking solution allows air carriers to track shipments and assets more effectively," said Kenneth Poon, General Manager at innoAviation. "With real-time information, carriers would be able to know where the leased ULDs are in an instant and allow them to plan ahead effectively, which is critical at the moment."
Descartes Core ULD Tracking is a Bluetooth-enabled solution that helps air carriers and their partners automate freight tracking, increase operating efficiencies and improve asset management by providing real-time visibility of air shipments bundled into a single ULD container or pallet. Shipments can be tracked whether in the air or on the ground via the Descartes Core BLE network, part of the Descartes Global Logistics Network™.
"We're pleased to help innoAviation help its air carrier customers better manage shipments during the COVID-19 pandemic," said Scott Sangster, Vice President, Global Logistics Service Providers at Descartes. "In such a fluid air cargo environment, real-time shipment and ULD visibility is more important than ever to help ensure efficient movement of critical PPE shipments and better management of shipping assets."
Qatar Airways Cargo supports UNICEF with transportation of medical shipments to Iran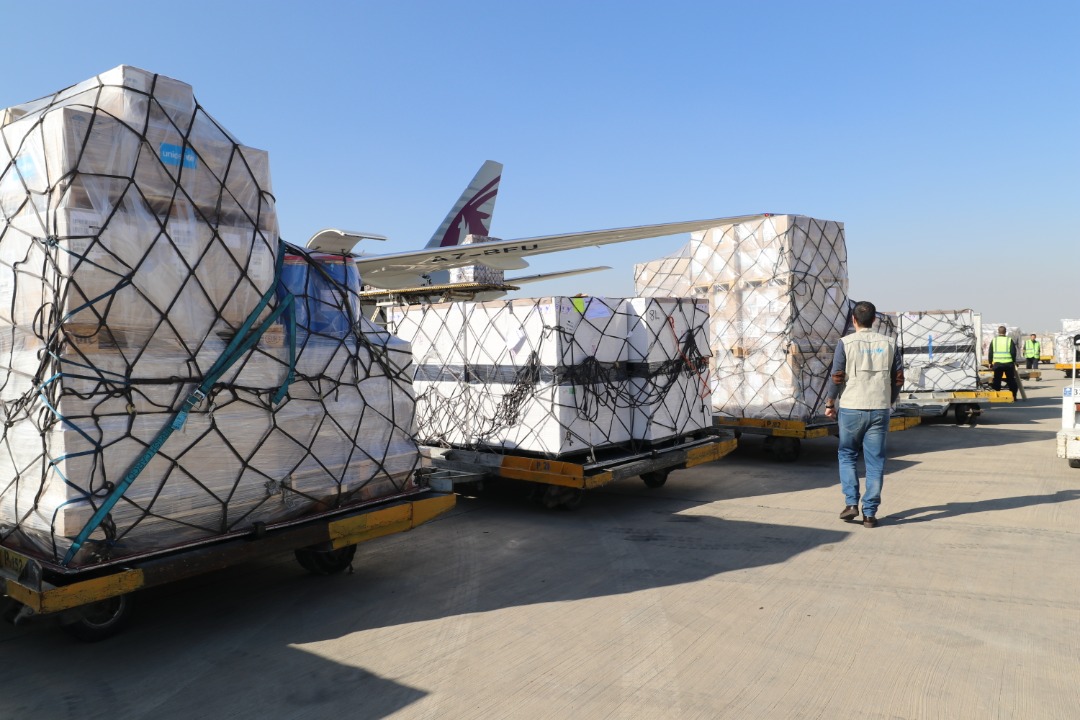 Listen to the story (FreightComms AudioPost)
Qatar Airways Cargo recently supported UNICEF with air freight to transport 36 tonnes of freight from Shanghai, China to Tehran, Iran. The cargo which consisted of medical supplies and personal protective equipment such as face masks, N95 masks, gowns and coveralls was transported over several scheduled flights last week.
UNICEF in Iran will deliver these items to the Ministry of Health, Treatment and Medical Education for distribution among Iran's brave health personnel in hospitals under universities of medical sciences admitting COVID-19 patients. In total, UNICEF has provided 63 metric tonnes of personal protective equipment (PPE) items, part of which have been distributed among health
personnel in hospitals under medical universities in different provinces including Gilan, Isfahan, Khouzestan, North Khorasan, Sistan and Balouchistan, East Azerbaijan, West Azerbaijan, Qom, Tehran and Alborz.
Qatar Airways Chief Officer Cargo Guillaume Halleux said: "We are proud to be part of this initiative supporting UNICEF and Iran in their fight against the COVID-19 pandemic. These are difficult and trying times for the entire world, fighting the pandemic is a global concern and we see it as our shared responsibility to support frontline healthcare workers and impacted regions
around the world."
"Collaboration with private sector, governments and partners is critical to overcome the unprecedented logistical challenges posed by COVID-19" said Etleva Kadilli, Director of UNICEF's Supply Division. "UNICEF is grateful to Qatar Airways for the generous donation and to the Government of the Islamic Republic of Iran for facilitating the shipment of these vital supplies, in support of Iran's frontline healthcare workers, children and communities."
Qatar Airways Group Chief Executive His Excellency Mr. Akbar Al Baker announced earlier in March that Qatar Airways would support the Iranian people and do its part by providing aircraft to transport donated medical supplies from around the world to Iran. Since then, Qatar Airways
Cargo has transported close to 60 tonnes of cargo to Iran, in addition to the recent UNICEF shipments.
The carrier has also shipped over 80 tonnes of medical supplies donated by Qatar Fund for Development to Rwanda, Lebanon, Tunisia, Algeria, Nepal, Albania, Angola, and Congo (DRC).
During this time of crisis, Qatar Airways Cargo has significantly increased operations to support global trade and the transport of essential supplies and relief goods to impacted regions.
In addition to operating scheduled freighters and belly-hold passenger flights, the cargo carrier is also utilising passenger aircraft to carry freight only and is also operating special freight charters to maintain vital global supply chains.
The airline introduced additional cargo capacity to several cities such as Shanghai, Guangzhou, Paris, Amsterdam, Muscat, Kuwait, Delhi, Beijing and Melbourne among others.
The airline continues to operate a significant cargo schedule with approximately 175 cargo flights per day. During the past months, the cargo operator has worked closely with governments and NGOs to transport over 175,000 tonnes of medical and aid supplies to impacted regions around
the world on both scheduled and charter services, the equivalent of roughly 1,750 fully loaded Boeing 777 freighters. Freight charters are being operated to multiple countries including China, India, Iran, Kuwait, Lebanon, France, Spain, Italy, Belgium, Germany, Poland, United Kingdom, the United States and Australia.