Russian Railways and Russia's Ministry of Transport agree with Japanese colleagues to organise container transport between Japan – Russia – Europe
Agreement on the organisation of rail container traffic between Japan-Russia-Europe.
Russian Railways, the Ministry of Transport of the Russian Federation, the Ministry of Land, Infrastructure, Transport and Tourism of Japan and the Association of Trans-Siberian Intermodal Operators of Japan have concluded an agreement on the organisation of rail container traffic between Japan-Russia-Europe.
The agreement was signed in Tokyo by the Deputy Minister of Transport of the Russian Federation Vladimir Tokarev, First Deputy Managing Director of Russian Railways Alexander Misharin, the First Deputy Minister of Land, Infrastructure, Transport and Tourism of Japan (MLIT) Yasuhiro Sinohara and the President of the Trans-Siberian Intermodal Operators Association of Japan (TSIOAJ) Massoud Kenjiro.
The purpose of the memorandum is to develop a safe, seamless, fast and convenient container service and increase the volume of container cargo shipments using the Trans-Siberian Railway between Japan-Russia-Europe.
The parties agreed to develop jointly the necessary transport and logistics infrastructure, including an increase in the throughput and carrying capacity of the Trans-Siberian Railway, port and land terminal capacities, and the provision of a sufficient number of rolling stock and containers.
Russian Railways and TSIOAJ will also make efforts to establish regular direct communications between the ports of Japan and the Russian Far East.
In addition, the parties will strive to improve transportation processes, including optimising the procedures for processing containerised cargo at the sea-port-railway interface, in order to reduce delivery times and ensure uninterrupted service of container traffic on the Japan-Russia-Europe link.
To reduce shipment costs and establish the competitive cost of container transportation services between Japan-Russia-Europe, it is assumed that container trains will operate at optimal levels, including with full loads, and that freight traffic in the reverse direction from Europe to Japan will be attracted.
In order to reduce delivery times, Russian Railways and TSIOAJ will work on a system of information exchange, including electronic data exchange and preliminary electronic information on the f reight at border crossings in order to achieve accelerated customs clearance.
The sides will also explore the possibility of creating an integrated system for tracking containerised cargo throughout the whole transit route, including on Russia's railways and ports and Japan's ports, as well as the possibility of using electronic means to protect freight with location monitoring functions.
Port of Long Beach sees cargo increase
Listen to the story (FreightComms AudioPost)
Cargo shipments rose at the Port of Long Beach in May as the economic effects of COVID-19 started to subside.
Dockworkers and terminal operators moved 628,205 twenty-foot equivalent units of container cargo last month, a 9.5% increase from May 2019. Imports grew 7.6% to 312,590 TEUs, while exports climbed 11.6% to 134,556 TEUs. Empty containers headed back overseas jumped 11.4% to 181,060 TEUs.
The Port has moved 2,830,855 TEUs during the first five months of 2020, 5.9% down from the same period in 2019.
"Our strong numbers reflect the efforts of our Business Recovery Task Force, which is setting the path for efficient cargo movement and growth," said Mario Cordero, Executive Director of the Port of Long Beach. "Our focus on operational excellence and world-class customer service will continue as we prioritize our industry-leading infrastructure development projects."
"We aren't out of the woods, but this is the gradual growth we have anticipated as the United States starts to rebound from the devastating economic impacts of COVID-19 and the trade war with China," said Long Beach Harbor Commission President Bonnie Lowenthal.
As part of its recovery efforts, the Port of Long Beach has activated an internal Business Recovery Task Force that works with customers, industry partners, labor and government agencies to ensure terminal and supply chain operations continue without disruption, along with expediting shipments of crucial personal protective equipment.
May marked the first month in 2020 that cargo shipments rose at the nation's second-busiest port, and followed seven consecutive months of declines attributed to the U.S.-China trade dispute and the COVID-19 epidemic.
Manufacturing in China continues to rebound from the effects of COVID-19, while demand for furniture, digital products and home improvement goods is increasing in the United States.
Greenbrier Marine and Overseas Shipholding Group, Inc. announce vessel delivery
Listen to the story (FreightComms AudioPost)
Greenbrier Marine, a division of The Greenbrier Companies, Inc., announced that it has delivered the OSG 204, a 204,000 barrel capacity oil and chemical tank barge for dual-mode ITB service pursuant to U.S. Coast Guard NVIC 2-81, Change 1.
The barge has been built in compliance with MARPOL Annex VI Regulation 13 Tier III standards regarding nitrogen oxide emissions within emission control areas. The state-of-the-art 581′ tank barge is among the largest in the history of Greenbrier Marine, with origins on the Willamette River in Portland dating to 1919.
The OSG 204 has been paired with an existing tug within the OSG fleet, the OSG Endurance, and will travel to the Gulf of Mexico, where it will contribute to OSG's growing presence in the Jones Act trade.
The ATB unit has been fixed to a long-term charter commitment, with delivery to the charterer occurring late in the second quarter of 2020. Greenbrier Marine is also constructing a second sister barge, which has a scheduled delivery date during the fourth quarter of 2020.
"OSG is a great customer and a dedicated business partner and we appreciate the opportunity to work together on the construction of this vessel. The launching of OSG 204 was completed in December and the christening was celebrated on May 19 at the first virtual barge christening in the history of Greenbrier Marine, an adaptation necessitated by COVID-19," said Richard Hunt, General Manager of Greenbrier Gunderson in Portland, Oregon.
"We are thankful for the collaborative work with OSG and all major equipment vendors and suppliers and are pleased to deliver this Jones Act-compliant barge as the start of a long-term relationship with OSG."
"I am very pleased to add the OSG 204 into OSG's fleet. I want to thank our site team and Greenbrier's team for the high quality work on completing the OSG 204," said Patrick O'Halloran, Chief Operations Officer for OSG. "I look forward to continuing the excellent cooperative relationship with Greenbrier Gunderson into the future."
Anchorage Launch Services signs lease for new commercial dock space at Port of Kalama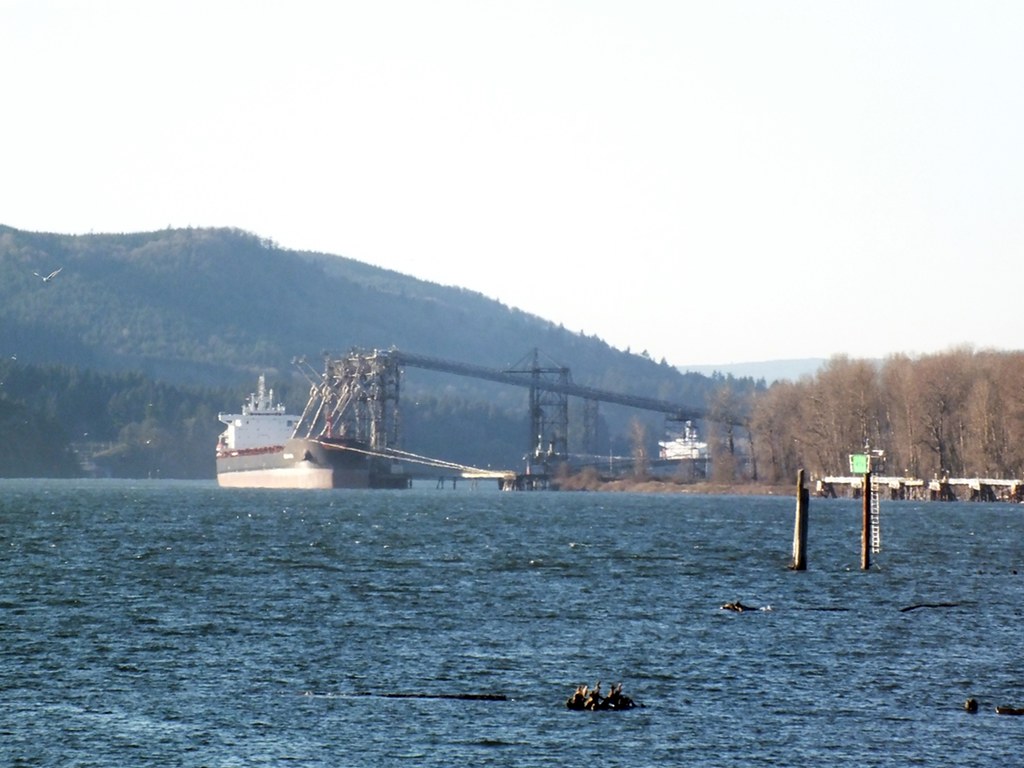 Listen to the story (FreightComms AudioPost)
Port of Kalama announced that Anchorage Launch Services has signed a contract to lease the Port's new commercial dock and operate their maritime transportation services. The new tenant will use the dock as its Anchorage Launch Services Terminal to provide light cargo and commercial passenger services to the maritime shipping industry on the Columbia River from Astoria to Portland/Vancouver—and everywhere in between. Anchorage Launch Services delivers supplies, goods and products to ships to keep their operations moving efficiently.
"There is not a facility like the Port of Kalama's commercial wharf on the entire Columbia River—this exceptional centrally-located facility includes a crane and forklift to keep us operating 24/7, 365 days a year and that enables us to serve ships more efficiently than ever," says Alex Scott, chief operating officer, Anchorage Launch Services. "This new facility and home for our operations raises the bar on what we can offer our clients—our new terminal will save untold amounts of time and dollars for the maritime industry. This could not be a better location to serve commerce on the entire river."
The Port modified and refurbished components of a barge to develop the long-planned commercial dock last year and prepare for a maritime client including furnishing and installing bulkheads, bullrails, fenders, ladders, new spud piles and a gangway landing platform.
"We are incredibly excited to have a maritime service provider like Anchorage Launch Services serving clients from our new commercial wharf," says Troy Stariha, president, Port of Kalama Board of Commissioners. "Not only will their presence here better serve our visiting commercial ships—and those at ports along the Columbia River—but the growing business will add local jobs and contribute to the local economy as operations get underway. We are delighted they have chosen the Port of Kalama to call home."