Konecranes to deliver fleet of AGVs to Long Beach Container Terminal
Listen to the story (FreightComms AudioPost)
Konecranes has signed a contract with Long Beach Container Terminal for 30 additional Konecranes Gottwald Automated Guided Vehicles which will be delivered in Q4 2021 and commissioned by Q2 2022. The order, which was booked in March 2020, reflects the growing momentum behind Konecranes' path to port automation approach.
Long Beach Container Terminal currently operates a fleet of 72 lead-acid, battery-driven Konecranes Gottwald Automated Guided Vehicles. The 30 new AGVs will greatly expand LBCT's current, complete system which includes a Battery Exchange System, transponder navigation and a fence control safety system. It was delivered turn-key, completely integrated in advance.
In a separate order, Konecranes will provide pre-engineering for a second BES that will be installed for redundancy reasons as part of the final phase of the terminal's construction. It will have an improved design resulting from operational knowledge drawn from the initial BES.
Ari Rämö, Region Americas Sales Manager, Konecranes Port Solutions, said: "This order from LBCT is a strong vote of confidence in our Automated Guided Vehicle technology and its long-term viability in terms of constantly improving eco-efficiency and productivity."
Anthony Otto, President of LBCT LLC, said: "LBCT is very pleased with the performance of our first fleet of AGVs. We will now be increasing this fleet as part of the completion of the final phase of the new terminal's construction currently underway and scheduled to be finished in Q1 of 2022. Konecranes has been a fantastic partner and this additional purchase is a reflection of our confidence in their dedication to our partnership going forward."
LBCT uses the TEAMS Equipment Control System from TBA Group to manage travel orders, optimize routes and avoid deadlock situations in the operation of the AGV fleet. This system will be updated to reflect the expanded AGV fleet and its expanded operational range.
This contract with LBCT is part of Kone­cranes' path to port automation, where container terminals improve productivity and safety in manageable steps. The path to port automation applies to all container handling equipment brands. Full automation can be the final goal but it doesn't have to be. Flexibility is the key.
Konecranes and Fluidmesh join forces to deliver world-first 100% wireless automated rubber tired gantry crane system
Listen to the story (FreightComms AudioPost)
Konecranes and Fluidmesh Networks announce that they have joined forces and successfully carried out proof-of-concept testing of fully wireless communication for the Konecranes Automated RTG system.
This breakthrough allows container terminal operators to roll out remote control and automation to RTGs in the container yard without running fiber or cable spools, with substantial savings in cost and time.
Port and container terminal operators have been embracing automation to increase productivity and give better working conditions to their employees. Many of the newest and largest container terminals have been adopting some level of automation and support for remote operations: from ship-to-shore cranes, to horizontal transport, to automated stacking cranes.
However, this has not been the case for RTGs, which are widely used in container terminals around the world. Much of the world's RTG fleet is diesel-powered, and there have been limited options for automating RTGs given the fact that running cables to them is costly and often unpractical. Konecranes and Fluidmesh have been working closely to solve the connectivity challenge, creating a new opportunity for container terminal operators.
The automation solution for RTGs comes as part of the Konecranes ARTG 2.0 system update, which was in development for over two years with thousands of hours of field testing. Fluidmesh MPLS-based wireless technology has been used to guarantee low latency and high throughput to the RTGs for control and live-video data. The system has been designed to operate on licensed as well as unlicensed frequencies around the world, providing north of 99.95% uptime in real working conditions.
"We are thrilled to have been given the opportunity to work with a leader like Konecranes and contribute to a system that helps container terminal operators around the world to embrace automation and drive the productivity of their RTGs," comments Cosimo Malesci, Fluidmesh Co-Founder and EVP Sales and Marketing. "Our wireless MPLS-based technology has been proven in many vehicle automation systems around the world where 802.11 WiFi or LTE haven't been able to deliver. Our focus on seamless roaming, extremely low latency and high throughput wireless networks to drive productivity, safety, and security continues to pay off. We are truly honored to have been able to deliver such performance to the container terminal space."
"We have been impressed by Fluidmesh Wireless MPLS technology since day one," comments Sampo Pihkala, Chief System Engineer ARTG at Konecranes. "We have been testing many different wireless technologies for crane operations over the last decade and the throughput and reliability delivered by Fluidmesh is unparalleled. Being able to work with a company that truly understands the requirements and challenges in the OT and port automation space has helped us to bring a truly innovative solution to the market in record time."
This cooperation with Fluidmesh is part of Kone­cranes' path to port automation, where container terminals improve productivity and safety in manageable steps. From smart features up to full automation, the path can include supervised operation and remote operation to smoothly introduce the power of automation. The path to port automation applies to all container handling equipment brands. Full automation can be the final goal but it doesn't have to be. Flexibility is the key.
DP World joins with TradeLens to digitise global supply chains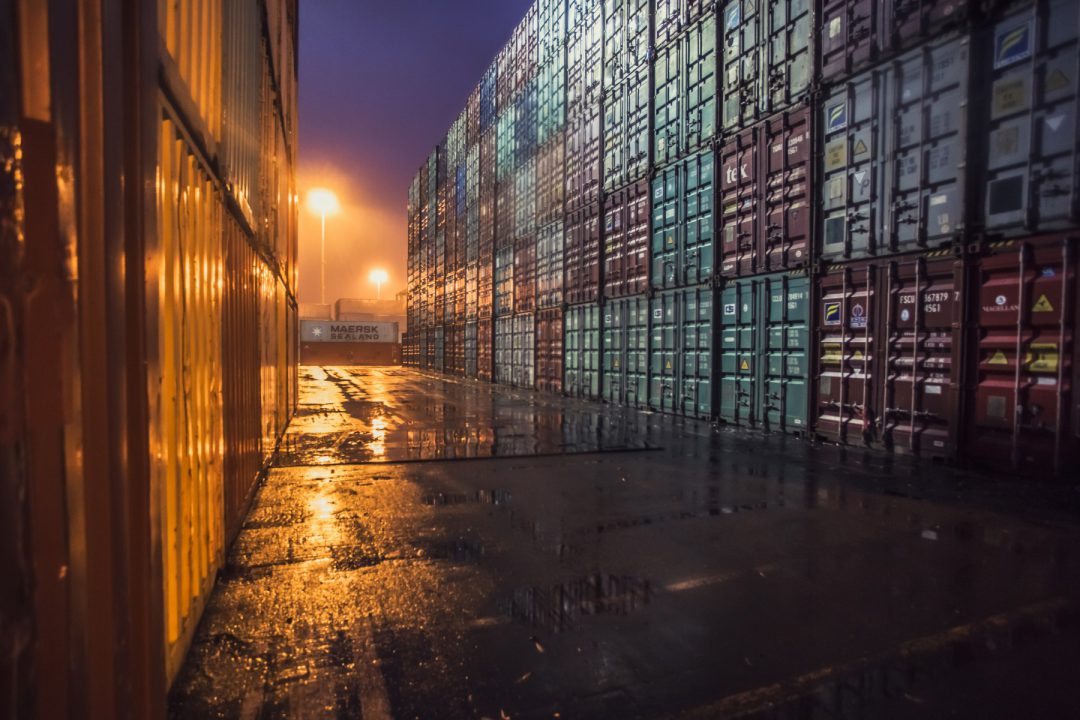 Listen to the story (FreightComms AudioPost)
DP World, a leading enabler of global trade, has completed the early stages of integration with TradeLens, a blockchain-based digital container logistics platform, jointly developed by A.P. Moller – Maersk and IBM.
The collaboration between DP World and the TradeLens platform will help accelerate the digitisation of global supply chains. DP World aims to connect all its 82 marine and inland container terminals, as well as feeder companies and logistics divisions with TradeLens. In 2019 DP World's terminals handled 71.2 million TEU (twenty-foot equivalent units) containers from around 70,000 vessels.
TradeLens brings together data from the entire global supply chain ecosystem including shippers, port operators and shipping lines. It also aims to modernise manual and paper-based documents, replacing them with blockchain enabled digital solutions.
For DP World the data from its integration with TradeLens will improve operational efficiency with earlier visibility of container flows across multiple carriers.
Such visibility includes confirmation of the transport modality that follows the port stay for each container, which in heavy transhipment or rail ports enable better yard planning.
It will also expand the capabilities of DP World's digital platforms created to move online the management of logistics. The DF Alliance, SeaRates, LandRates and AirRates enable shippers to move cargo to and from anywhere at the click of a mouse, across DP World's network and beyond.
Sultan Ahmed Bin Sulayem, Group Chairman and Chief Executive Office of DP World said: "Our decision to team up with TradeLens is driven by our vision for intelligent logistics, reducing costs and creating value. DP World is working to deliver integrated supply chain solutions to cargo owners, backed by our global network of ports, terminals, economic zones and inland operations. By working with TradeLens we will accelerate the digitisation of global trade. Modernising the processes by which logistics operate is critical to building more robust and more efficient supply chains which will help economic development and generate more prosperity."
TradeLens provides visibility across the entire supply chain, from booking to clearance to payments and is built on a wealth of input from the industry including direct integrations with more than 110 ports and terminals, 15+ customs authorities around the world and an increasing number of intermodal providers.
"It is very encouraging to see the continued adoption of the TradeLens platform among global logistics players as it helps global supply chain customers expand and explore the benefits of digital documentation flows. In turn, the broadened geographic scope of the platform provides new opportunities for TradeLens ecosystem participants to innovate and develop digital offerings on the platform," said Vincent Clerc, CEO of Ocean and Logistics, A.P. Moller – Maersk.
"At its core the TradeLens business model is an open and neutral platform to spur collaboration and digitisation between all parties in the supply chain ecosystem. We are excited to welcome DP World and eagerly await the creation of new potential ways of working for shippers and consignees in global trade. With 4 of the 5 largest global port operators actively engaged with TradeLens, the coverage of the ecosystem continues to expand rapidly," said Mike White, CEO GTD Solutions and Head of TradeLens
DP World has already connected Cochin Port (India) with the TradeLens platform via API technology. Plans to collaborate with other DP World business units, including the feeder line Unifeeder, have also been initiated.
Global Ports introduces a new mobile harbour crane to PLP
Listen to the story (FreightComms AudioPost)
Global Ports Investments PLC announces that a new LIEBHERR LHM 550 mobile harbour crane was put into operation at the Petrolesport terminal in the Greater Port of Saint Petersburg. The equipment was purchased as part of the Global Ports facility development and upgrade programme in Russia.
The crane, which has a capacity of 144 tonnes, was manufactured for the Group at LIEBHERR's facility in Rostock (Germany) and was delivered pre-assembled to PLP by sea.
A LIEBHERR LHM 550 crane is capable of operating in hook, crossbeam, spreader and tipping modes and has high mobility and manoeuvring ability. Its ergonomic tower crane cab offers excellent visibility and safe control of all operating crane movements.
PLP is one of the leaders in the transshipment of heavy and oversized equipment in the Northwest Basin. The commissioning of the new crane will allow the terminal to increase the throughput and the cargo handling efficiency, to optimize the costs of equipment repair and maintenance, while maintaining high quality of service for customers.
The acquisition of a second similar crane is expected in late 2020 — early 2021 as part of the development and upgrade programme. The presence of two modern mobile cranes with increased lifting capacity, which can work synchronously, will expand the capabilities of PLP in handling heavy, oversized and project cargoes, in particular for the oil and power industries. In synchronous mode, the cranes can handle cargoes weighing up to 270 tonnes.