MOL introduces FOCUS project part Ⅲ: virtual ship visit application 'Fleet Tour'
Listen to the story (FreightComms AudioPost)
Mitsui O.S.K. Lines, Ltd. today announced the release of the "Fleet Tour" virtual ship visit application using the Ricoh Theta, a 360-degree camera and the Theta 360.biz a virtual tour production service, both from Ricoh Company, Ltd. This is part Ⅲ of the FOCUS Project, following the "Fleet Viewer" application, which monitors vessel operation data, and "Fleet Performance" application that tracks vessel performance.
Ship management companies and operators can browse 360-degree onboard images and videos from anywhere using PCs and smart phones, and intuitively experience various places on the ship as if they were visiting in person.
MOL Ship Management Co., Ltd., an MOL Group core dry bulkship management company, has already adopted the application, in move to enhance the quality of their ship management services.
The MOL Group works to enhance safe operation by comparing fixed points in important areas such as the deck, cargo holds, and the engine room, and horizontally developing group-wide expertise and marine engineering know-how through addition of special notes on photographic images, in cooperation with MOLSHIP and other ship management companies that are familiar onboard operations and procedures.
MOL Group land-based employees have limited opportunities to visit all areas onboard giant vessels over 300m long, especially in relatively short in-person visits. This makes it hard to intuitively grasp the ship structure through drawings and conventional planar images. But the "Fleet Tour" application addresses such issues. In addition, the MOL Group expects this to be particularly effective as an ICT-based approach to vessel inspection, considering the difficulty of conducting in-person ship visits during the COVID-19 pandemic.
Through the FOCUS project, MOL continually strives to expand the development and adoption of applications that use in-service fleet operation data, with the aim of creating applications that grow along with users' needs. The company seeks to offer stress-free transport services with greater safety and reduced environmental impact.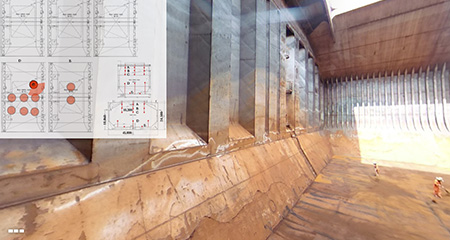 MOL introduces FOCUS project part Ⅲ: virtual ship visit application 'Fleet Tour'. Image: MOL
Port of Antwerp is investing heavily in general cargo: search for breakbulk candidate for Churchill dock has started
Listen to the story (FreightComms AudioPost)
The Churchill dock, located in the middle of the harbor, will become a fully-fledged 'Breakbulk dock'. To the south of this dock, a water-bound concession will be released, whereby Port of Antwerp has resolutely opted to develop general cargo activities there. With this, the port shows that despite the pressure on this segment due to global trade problems and the corona crisis, breakbulk remains an absolute priority and that it wants to continue to support this.
Multimodal accessible
The area around the Churchill dock has historically grown into one of the most important places for breakbulk terminals in the port. The concession in question, located in the middle of existing breakbulk activities, is 15 hectares in size and has multimodal access with immediate access to the European road, rail and inland shipping network. As a result, breakbulk goods find their way quickly and reliably from the European production and consumption centers to all corners of the world and vice versa.
Synergies between logistics players
Numerous logistics players offer various services with a high added value tailored to the customer at this location. There are, for example, service providers for the handling, assembly, quality control, packaging and storage of general cargo. This wide range of added-value services ensures that the goods are processed according to the wishes of the end customer without a lot of excess transport and handling costs.
Antwerp, home port for general cargo
The shipping of break bulk, such as steel, project cargo and forest products, requires a product-specific approach: no shipment is identical. Thanks to the "can do" mentality and the extensive experience of the many service providers, the port of Antwerp can ship almost 9 million tons of conventional general cargo with an eye for quality every year.
Jacques Vandermeiren, CEO Port of Antwerp: "Antwerp has been the breakbulk port par excellence in Europe for many centuries. As a result, all the quality, experience and flexibility is in house to provide tailor-made solutions for the customer. Breakbulk generates a high added value in the portfolio of our port, so it is crucial that we continue to promote these goods. "
Port ships Annick De Ridder: "Breakbulk is in the DNA of the port of Antwerp and remains an absolute priority. Despite trade troubles and the economic slowdown, breakbulk remains one of our six commercial pillars. The transhipment and production of breakbulk continues unabated, thanks to the efforts that our breakbulk community is making to put our port on the map as a strong brand in terms of quality, experience and flexibility. I cannot emphasize enough that I am extremely grateful to them, they make Port of Antwerp the home of breakbulk. "
Hamworthy Pumps makes strong re-entry to tanker market
Listen to the story (FreightComms AudioPost)
New shuttle tankers are being built with pump solutions from Hamworthy Pumps, which aims to regain its position among the leading suppliers of pump room systems. This will be done in a new powerful alliance with Hoyer Motors as supplier of electrical drive systems.
In Singapore, Hamworthy Pumps is back on its feet as an independent brand following a change of ownership. As part of an ambitious growth plan, the company has embarked on a comeback within pump room systems for tankers, where it was one of the leading suppliers to this market for decades.
Resently the new strategy has resulted in orders for pump room systems for three large tankers, with an option for a fourth. Two of the ships – both Aframax-size crude oil tankers – are being built by Hyundai Heavy Industries for the Finnish oil refiner Neste. The third – a 152,000 DWT DP2 shuttle tanker – is being built at COSCO Zhoushan Shipyard for Knutsen NYK Offshore Tankers of Norway.
"We have a strong ambition to gain market share in pump room systems. Neste and Knutsen are crucial references for us in that context. We continuously develop our solutions in close co-operation with end-users, ship designers and strategically selected vendors. With these orders, we send the message that we have the expertise and the setup to deliver the customized pumping solutions that the market demands", says Terje Bjornemo, Director, Pump Room Systems at Hamworthy Pumps.
Expanded facilities and water cooled motors
The orders for pump room systems for the three shuttle tankers have all been won in a new powerful alliance with Hoyer Motors as the subcontractor for electrical drive systems. The Danish electric motor specialist has many years of experience from the marine industry and will be a strategically important partner for Hamworthy Pumps' re-entry to the tanker market.
"In recent years, we have strengthened our capability to serve the marine industry including expanded facilities in China and a new range of ATEX and IECEx certified, explosion proof marine motors. For these specific tankers we developed special water cooled motors to meet the PRS requirements and will continue to invest in R&D as we strongly believe in the tanker market potential," says Henrik Sørensen, CEO, Hoyer Group.
The collaboration between Hamworthy Pumps and Hoyer Motors is further strengthened by the fact that both companies are in the process of significantly upgrading on service and aftersales. Last year, Hamworthy Pumps opened a large service centre in Singapore together with its sister company Svanehøj, and it is currently rolling out a new global service provider concept. Hoyer Motors has taken active steps into the aftermarket and is represented via selected partners in Houston, Rotterdam, Singapore and Shanghai, among others.
Stolt Tankers to purchase five chemical tankers from CTG
Listen to the story (FreightComms AudioPost)
Stolt-Nielsen Limited announced that Stolt Tankers B.V. has agreed to acquire five chemical tankers from Chemical Transportation Group for trading in the Stolt Tankers Joint Service.
The five ships, which are 26,000 dwt and with stainless steel cargo sections, were built in China in 2016 and 2017.  The purchase of each ship is expected to close between December 2020 and February 2021. Further terms of the transaction were not disclosed.
Commenting on the purchase, Stolt Tankers President, Lucas Vos, said
"This acquisition is an excellent opportunity for Stolt Tankers to replace ships being retired in the next few years, lowering our fleet age profile with competitively priced ships that can trade in any of our deep-sea lanes. Newer, fuel-efficient ships help us reduce our carbon footprint while buying existing tonnage means capacity is not added to a market that doesn't need it.  In a cyclical industry like ours, buying the right ships at the right price is the path to financial sustainability.  In the end, Stolt Tankers' customers are the real winners in this deal, as these ships will support our proven platform that provides a high quality, reliable and flexible service offering."