MSC collaborates with South Pole to expand its Carbon Neutral Programme
Listen to the story (FreightComms AudioPost)
MSC Mediterranean Shipping Company has partnered with leading global climate solutions provider South Pole, to develop the MSC Carbon Neutral Programme. After successful implementation in selected countries, MSC is now extending the programme to clients worldwide throughout 2020.
The programme complements MSC's strategic approach to sustainability and massive investment in reducing emissions across its fleet. MSC recently completed the launch of the largest class of container ships which produce the lowest CO2 emissions per container carried by design – MSC's Gülsün Class. Furthermore, MSC is actively exploring and trialling a range of alternative fuel and propulsion technologies to support the container shipping industry's long-term goals to decarbonise.
On top of this, MSC was the first major shipping line in 2019 to offer an option to fully compensate the unavoidable carbon emissions caused by the transport of their cargo through supporting climate protection projects managed by South Pole.
The climate action projects developed by South Pole deliver measurable benefits aligned with the goals of the Paris Agreement and the UN Sustainable Development Goals. They improve lives, provide jobs, and preserve landscapes for communities around the world. As part of the Carbon Neutral Programme, MSC customers can compensate the emissions from the transportation of their cargo by financially contributing to two selected projects that reduce emissions. South Pole cancels the same amount of carbon credits generated by these projects, which are audited and third-party certified according to the most stringent international standards, the Verified Carbon Standard (Verra), the Climate, Community and Biodiversity Standards and the Social Carbon*.
"In addition to running the biggest fleet investment programme in the industry, MSC has ensured that customers have an option to compensate CO2 emissions through the global MSC Carbon Neutral Programme. We have partnered with South Pole, a leading, certified third party to extend the MSC Carbon Neutral Programme and help bridge the gap between shipping today and the zero-carbon future we all aspire to," says Claudio Bozzo, Chief Operating Officer, MSC.
"We congratulate MSC on this important effort to further green their fleet and for facilitating their customers to be more climate-friendly. Transformational change won't happen overnight, but each step we take along a shared, ambitious climate journey is bringing us closer to where we need to be," said Renat Heuberger, CEO of South Pole.
"MSC clients are given the opportunity to  contribute to projects that not only mitigate  global CO2 emissions, but also improve lives on the ground in communities in China and Zimbabwe – from the development of cleaner energy and to combating poverty, improving skills and ensuring food security," said Natalia Gorina, Commercial Director at South Pole.
HMM joins forces with CMA CGM on TTI Algeciras operation
Listen to the story (FreightComms AudioPost)
HMM announced that the company has signed a sales and purchase agreement with CMA CGM for the sale of its 50% stake minus one share in Total Terminal International Algeciras, a container terminal in the south of Spain.
Shares of TTI Algeciras are owned by HMM and HT Algeciras which is a special purpose company wholly controlled by HMM. HMM directly owns a stake of 50% minus one share, with the remaining 50% stake plus one share held by HT Algeciras.
HMM has decided to sell its own 50% stake minus one share but still maintains its position as the largest shareholder through HT Algeciras.
The financial details including the price of the deal were not disclosed.
HMM expects a great synergy effect based on strategic cooperation with CMA CGM in terms of enhancing profitability and operational capabilities by securing additional cargoes.
HMM official said, "TTI Algeciras has a great geographical advantage to play an integral role as a transshipment hub located at the centre of containerised cargo flow on main trade lanes. We believe TTI Algeciras will take centre stage in the Gibraltar area as it has a high potential for future growth and development. We are expecting more business opportunities in the years to come based on stable operations of the terminal."
This transaction, subject to regulatory approval, is expected to be completed in Q4 2020 for joint operations to be started.
Meanwhile, TTI Algeciras was formerly operated by Hanjin Shipping but HMM acquired a 100% stake in the terminal in 2017.
MOL introduces FOCUS project part Ⅲ: virtual ship visit application 'Fleet Tour'
Listen to the story (FreightComms AudioPost)
Mitsui O.S.K. Lines, Ltd. today announced the release of the "Fleet Tour" virtual ship visit application using the Ricoh Theta, a 360-degree camera and the Theta 360.biz a virtual tour production service, both from Ricoh Company, Ltd. This is part Ⅲ of the FOCUS Project, following the "Fleet Viewer" application, which monitors vessel operation data, and "Fleet Performance" application that tracks vessel performance.
Ship management companies and operators can browse 360-degree onboard images and videos from anywhere using PCs and smart phones, and intuitively experience various places on the ship as if they were visiting in person.
MOL Ship Management Co., Ltd., an MOL Group core dry bulkship management company, has already adopted the application, in move to enhance the quality of their ship management services.
The MOL Group works to enhance safe operation by comparing fixed points in important areas such as the deck, cargo holds, and the engine room, and horizontally developing group-wide expertise and marine engineering know-how through addition of special notes on photographic images, in cooperation with MOLSHIP and other ship management companies that are familiar onboard operations and procedures.
MOL Group land-based employees have limited opportunities to visit all areas onboard giant vessels over 300m long, especially in relatively short in-person visits. This makes it hard to intuitively grasp the ship structure through drawings and conventional planar images. But the "Fleet Tour" application addresses such issues. In addition, the MOL Group expects this to be particularly effective as an ICT-based approach to vessel inspection, considering the difficulty of conducting in-person ship visits during the COVID-19 pandemic.
Through the FOCUS project, MOL continually strives to expand the development and adoption of applications that use in-service fleet operation data, with the aim of creating applications that grow along with users' needs. The company seeks to offer stress-free transport services with greater safety and reduced environmental impact.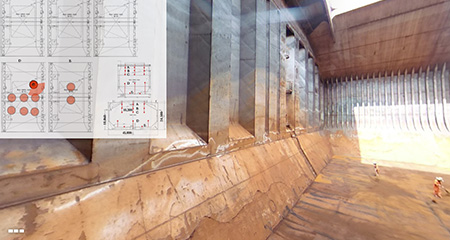 MOL introduces FOCUS project part Ⅲ: virtual ship visit application 'Fleet Tour'. Image: MOL
Evergreen joins the Ship Recycling Transparency Initiative
Listen to the story (FreightComms AudioPost)
Evergreen Marine Corporation (Taiwan) Ltd. has become a signatory to the Ship Recycling Transparency Initiative in order to share its aged vessels' green recycling policy. The move is part of Evergreen's avowed commitment to plan a completely sustainable life cycle for its vessels from design, construction, operation and ultimately to decommissioning.
The SRTI, hosted by the Sustainable Shipping Initiative, is an online platform via which members report information on their ship recycling policies and activities against a set of predefined disclosure criteria.
In the interest of transparency, Evergreen and other participating shipowners can share their approach to this critical component of environmental and socially responsible ship operations. Cargo owners and financial stakeholders, in turn will have access to this information in order to make their own informed decisions.
In announcing its decision to join SRTI, Evergreen said "We have had a long-standing commitment to 'Clean Oceans'. Embodied in this goal is a mission to ensure responsible and sustainable operations wherever they touch the environment, whether at sea or on land, and to care for the people we employ and the communities we serve."
When planning its current fleet renewal strategy therefore, Evergreen not only requires strict recycling standards for those vessels being disposed of, but also incorporates state-of-the-art design into its newbuildings so as to minimize the impact of container shipping operations both on marine life, on port communities and on humanity worldwide.
In this regard Evergreen invests in measures that go beyond environmental regulations, for instance, the new 12,000-TEU class F-type vessels, of which the 1st in the series is already in service network since March of this year, are equipped with a Selective Catalytic Reduction reactor system.
Such technology ensures that the vessels meet MARPOL nitrogen oxide emission Tier III standards, which is above the current Tier II requirements. In addition, Evergreen voluntarily ensure that all newbuildings and the ships already in service, no matter on which service trade they will be deployed, will be provided an Inventory of Hazardous Materials Part 1 for Class approval and SoC for certification.
Such consideration of the environmental impact of a vessel's operation throughout its life-cycle is the driving force behind the latest SRTI move. "When a vessel is decommissioned and recycling is planned, not only can valuable and reusable resources be recovered but potentially dangerous waste and pollutants must be processed properly." Evergreen goes on to say. "Recycling operations with the highest standards of safety available must be utilized. "We are therefore pleased to share our recycling policies by joining SRTI and helping lead a growing industry initiative to demand more responsible ship recycling in the future."
In a statement welcoming Evergreen, Andrew Stephens, Executive Director of the Sustainable Shipping Initiative said, "Evergreen Marine joins a growing SRTI family that includes like-minded shipowners who are holding themselves to account before key stakeholders, including clients, investors and the wider public. This includes an increasingly diverse range of stakeholders engaging on the topics of data and transparency, circularity, and the role of financial stakeholders in sustainable and responsible ship recycling in the absence of global regulation."
True to both its name and the corporate philosophy established by group founder and chairman Dr. Y.F. Chang, Evergreen recognizes its ecological obligations and will continue to maintain the best possible care in sustaining an 'ever green' global environment.