Oracle inventory optimization enables retailers to navigate uncharted demand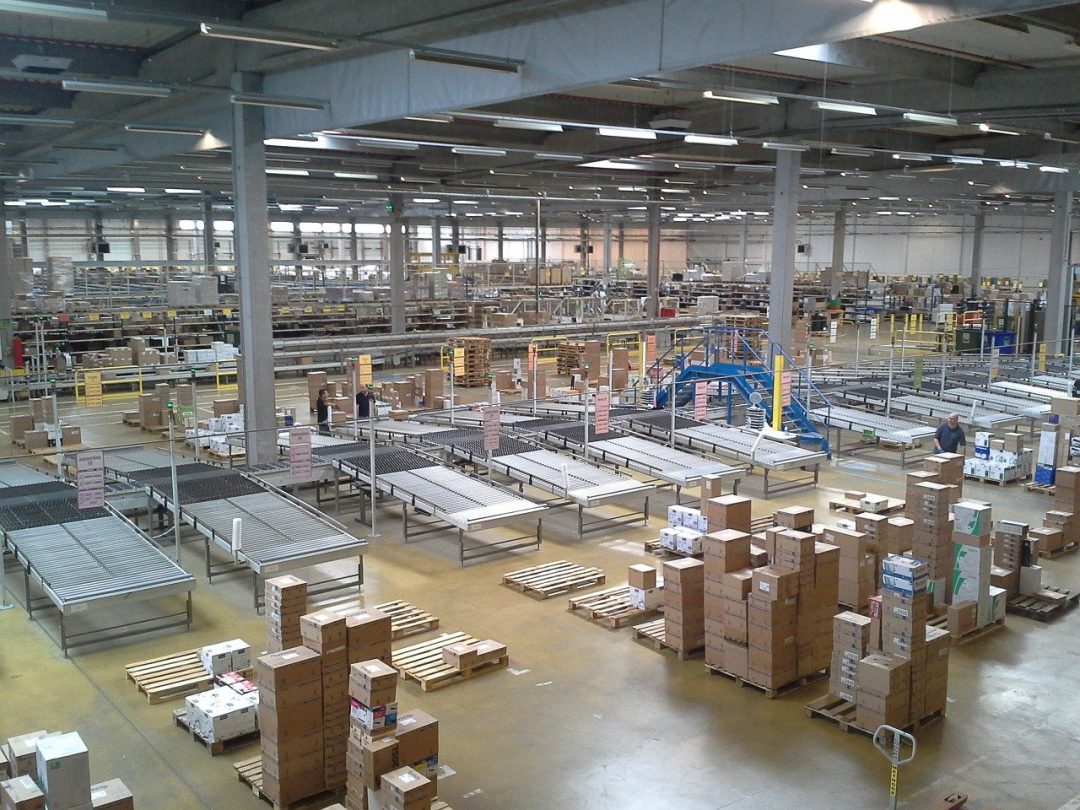 Listen to the story (FreightComms AudioPost)
The global health crisis has created an inventory emergency for many retailers. Today's unpredictable and volatile customer buying habits are limiting the effectiveness of using historical data to predict purchasing behavior and plan product inventory accordingly.
Powered by machine learning, the new Oracle Retail Inventory Optimization Cloud Service can sit between a retailer's forecasting and supply chain systems to help highlight the next best actions they can take to optimize inventory. This helps retailers get to answers on inventory placement and volume faster so they can better serve customers while maintaining a healthy cash position.
"Retailers are struggling to adjust decades of well-defined inventory and traditional supply chain management processes that have been thrown a curveball by COVID-19," said Jeff Warren, Oracle Retail vice president of strategy and solution management.
"With the ability to be deployed in just weeks, Oracle Retail Inventory Optimization Cloud Service does the heavy lifting and modeling to rebalance and optimize inventory so retailers can invest in the right products and automatically adapt to new consumer patterns as they occur."
In today's climate, the ability to respond to changing customer demands as quickly as possible is critical. Oracle Retail Inventory Optimization Cloud Service comes with pre-built machine learning models that more accurately predict overall inventory levels; recommend inventory re-distribution; balance supply and demand to free up money tied up in excess inventory; and more.
The cloud service easily integrates with existing forecasting and supply chain solutions and can be deployed quickly to reduce the burden on a retailer's IT and development teams.
Making Inventory Work
Consumer habits in recent months have been anything but typical as shortages spurred the need for people to try new brands or stores, and the desire to go out less has led to fewer shopping trips, but often larger overall grocery purchases. As a result, inventory moves out of the stores faster, creating a strain on both the supply chain and its financial model, leading to a gross margin problem.
For example, an average grocery retailer, with 30,000 SKUs and at least 1,000 stores, will have millions of SKU-store combinations. Determining the optimal replenishment plan when things are changing so rapidly is almost impossible without the help of purpose-built, machine learning models.
With Oracle Retail Inventory Optimization Cloud Service retailers can simulate and forecast optimal inventory positions and parameters to eliminate trial-and-error. As a result, supply chain executives and chief financial officers can come together to navigate tricky terrain, manage cash flow, and determine the impact of inventory on the balance sheet. The autonomous solution self-learns and automatically tunes to optimize working capital and deliver fast value by:
Performing continuous optimization of replenishment parameters;
Informing replenishment strategies with service-to-inventory trade-offs;
Translating objectives into machine learning-driven replenishment policies down to the item-location;
Recommending inventory re-distribution to serve customers and avoid markdowns;
Enriching the inventory movement processes with time-phased inventory projections;
Helping increase employee productivity to maximize a constrained workforce; and
Interacting with Oracle Retail Offer Optimization to drive better outcomes through simultaneous manipulation of supply and demand.
Oracle launched oracle cloud SCM to empower supply chain industry 
Listen to the story (FreightComms AudioPost)
To help organizations build resilient and agile supply chains that drive innovation and growth, Oracle today announced the latest updates to Oracle Fusion Cloud Supply Chain & Manufacturing (Oracle Cloud SCM). The updates help customers increase collaboration across supply networks, proactively manage supply chain assets, and implement long-term supply chain planning.
"The last 12 months have stretched supply chains to the limit as organizations wrestle with the disruptions of COVID-19, shifting global trade agreements, rapidly changing customer expectations, and numerous other unforeseen circumstances," said Rick Jewell, senior vice president, Oracle Applications development. "With the new capabilities within Oracle Cloud SCM, we are helping our customers navigate this complexity and build more adaptable businesses that can respond to today's challenges and whatever comes next."
With Oracle Cloud SCM, organizations can identify new opportunities, rethink processes, and plan and execute across the entire business. The latest features and capabilities within Oracle Cloud SCM include:
Oracle Logistics Digital Assistant: Provides on-the-go access to real-time supply chain information through a conversational interface that responds quickly, improves user satisfaction, and increases business efficiencies. In addition, users can now easily access order status and shipment tracking remotely without having to navigate through the Oracle Transportation Management (OTM) application or understand complicated data mappings. As a result, a supply chain manager can be informed of all in-transit orders and receive timely updates on shipments from anywhere, on any mobile device.
Oracle AI Planning Advisor: Uses artificial intelligence capabilities embedded within Supply Chain Planning to display recommendations that optimize new product introduction (NPI) and enable customers to respond to current and anticipated production disruptions.
Field Service Preventative Maintenance: Helps organizations improve the customer experience through new preventative service flows and break-fix and installation capabilities that are delivered via Service Logistics Cloud for Field Service.
Multi-Tier Supply Chain Collaboration: Delivers improved visibility into upstream supply to increase overall supply chain responsiveness. Oracle Supply Chain Collaboration can now synchronize upstream supply information such as on-hand balances, purchase order details, and work order details from multiple tiers of external organizations. The data is then automatically shared with Oracle Supply Planning Cloud.
Planning for Project-Driven Supply Chain: Optimizes supply planning for project-specific material requirements and execution of purchase orders, transfer orders, and work orders—all with project and task references. By matching demand and supply based on flexible rules, customers are able to group projects and plan at the group level when supplies can be combined across many projects.
New Channel Revenue Management Capabilities: Streamline and optimize trade programs by enabling organizations to create, resolve, and settle claims for deductions and overpayments. In addition, the new capabilities simplify the export of supplier programs and claims.
Cross-Product Procurement Enhancements: Simplify integration with external systems to help customers integrate and extend procurement processes via new and modified REST APIs. In addition, Oracle Procurement Cloud features new deep links that provide easy navigation directly to application pages without using the menu structure. These links can be leveraged in a variety of ways, including in business intelligence reports, notifications, and third-party application pages.
Warehouse management: Can you afford downtime?
Listen to the story (FreightComms AudioPost)
We aren't talking about personal downtime here. We are talking about those times where you have hundreds of thousands of dollars worth of products stored. If these products melted, grew mold, or were otherwise damaged – that responsibility falls to you to cover. Your warehouse plays a pivotal and essential role in the supply chain, and if you aren't ensuring you have taken every precaution possible, you might just find yourself losing out in the long run.
Of course, the first thing that you have is insurance. This will keep you covered for most eventualities. But the real dark horse when it comes to your back-up plan will be your CI Group generator. 
Planning and Preparation
No one wants to think about the disaster moment of the power going out. But there is a relief in knowing you have an industrial generator that can help you handle the situation with ease. The chances of a total power failure from natural disasters or a human-made issue aren't as small as you might thing. The proactive step to take is to have a back-up generator and knowing how to use it long in advance of anything happening.
Power Outages
It has been reported that blackouts and power outages have been increasing since 2003. In simple terms, this means you are more likely to experience a power outage than ever before. 
Snow, ice, storm hurricanes have caused most of these outages, and other severe weather issues are some of the critical causes of power outages and general power issues. These disturbances will knock the power out to your warehouse. What comes next? The waiting game. How long before you will be back up and running? How long before you are at risk of stock issues?
Basic Generator Tips
You will have to make sure that you choose a generator that is large enough to keep your critical systems running. It is a good idea to work with a provider and let them know what you need so that you can be sure you have a generator that will suit your needs. 
Fuel is going to be a crucial part of the whole operation, and if you hadn't already thought about now is undoubtedly the time. And in the case of a flood, have you ensured that your generator is built to keep running or at least protected.
Before you call any companies, find out all of your energy usage numbers and the equipment that would be the minimum that you need to have running. This will give them a clear understanding of your power needs. 
The very bottom line is that all businesses are going to be heavily reliant on gas and electricity to keep themselves up and running. These things are even more essential if you have extensive storage facilities that supply pharmaceuticals, hospitals, and food businesses.
And it is impossible to say that your business won't suffer from a blackout or a power outage, so getting a generator is part of a plan that can keep your business running even in the face of disaster. 
Cost-effective logistics strategies for businesses generating more online sales
Listen to the story (FreightComms AudioPost)
The Covid-19 crisis has triggered an increase in online sales. With more and more businesses all over the world offering a home delivery service, it pays to focus on cost-effective logistics strategies. While boosting orders and adapting to a new way of selling is beneficial for businesses aiming to pull through the crisis, it's critical to ensure added shipping costs are accounted for. Here are some steps to balance the books. 
Plan in advance
The vast majority of businesses were caught off-guard by the outbreak of Covid-19 at the beginning of 2020. Now that we have a better understanding of what it means for global trade and consumer buying habits, companies can adjust and adapt and start to make plans in advance. One of the most important considerations when offering online shopping is crunching the numbers related to logistics. Will you be paying for warehousing and distribution? How many packages are you expecting to send or ship per day? Are you dealing with customers locally, nationally or internationally? Where possible, it pays to plan ahead. If you're expecting a surge in orders, make sure you have the arrangements in place to deal with an influx and ensure you're operating cost-effectively. Explore different options, get quotes and make sure you're ready to offer new services. You don't want to lose customers the first time they place an order because you can't deliver on promises. 
Exploring funding streams and efficiency savings
There is no doubt that the Coronavirus crisis has wreaked havoc on organizations and companies across almost every sector. With the future uncertain, it's beneficial for business owners to explore funding streams, to keep a close eye on the books and to look into efficiency savings. Altering staffing structures, adapting to embrace and capitalize on new buying trends and automating processes can save time and money. When it comes to funding plans for growing your business and catering to an online market, businesses can consider personal investment through options like buying and selling stocks, trading share CFDs or selling real estate, external investment or borrowing. Weigh up the options open to you, compare the pros and cons and make sure you understand the risks or implications of borrowing, putting your money into an investment opportunity or giving away part of the business in return for a cash boost.
Saving on shipping
Many businesses that usually rely on in-store sales are exploring new opportunities. If you start accepting online orders, it's hugely beneficial to look for ways to save on shipping. Consider different options, for example, free standard delivery or express services for a fee, and figure out how the costs add up and what works best for your business. Try to ensure that orders are packaged together to prevent delivering a series of separate items. You can outline order deadlines or time limits to ensure that customers have an accurate idea of when their goods will arrive, for example, offering next-day delivery on orders placed before 3 pm. It's also essential to build strong relationships with the agents or companies you use to ship your products and to make sure you're getting the best deal. Your performance and reputation could be affected by the delivery process. 
Online sales have soared in recent months, and many consumers are happier to place orders online than leaving the house. If you're on a mission to balance the books, it's crucial to employ cost-effective logistics strategies.