Port of Antwerp partners with global supply chain firms to launch ePIcenter project
Listen to the story (FreightComms AudioPost)
Today, a large consortium of 36 partners representing leading ports, forwarders, cargo owners, logistics providers, knowledge institutes and technology firms officially launched the ePIcenter project. The project is funded by the European Horizon 2020 programme and has a timeframe of 42 months.
Under the coordination of Port of Antwerp, the partners will join forces to provide hands on solutions that turn global supply chain challenges caused by increasing length, complexity and vulnerability into opportunities. The goal will be to enable seamless transport of goods, focusing especially on the technological and operational opportunities that the Physical Internet, synchro-modal operations and other disruptive technologies such as Hyperloop, Industry 4.0 and autonomous vehicles provide.
ePIcenter has a truly global scope, with a number of large scale demonstrators on main shipping routes from Europe to Canada and the US, as well as new trade routes such as the Northern Sea Route and the new Silk Road routes. Technology innovators and environmental experts will collaborate to develop new solutions which increase the efficiency and sustainability of global supply chains.
With result oriented field trials and working with some of the most ambitious players in the trade & logistics sector, ePIcenter commits to create solutions with tangible impact towards the sustainable logistics chain of the future.
Port of Antwerp, next to coordinating the ePIcenter project, will host one of the large scale demonstrators. The "Link of the Future" demonstrator will focus on implementing the various ePIcenter innovations in one of Europe's largest multimodal transport hubs, as well as realising the first transcontinental cyber secure trade lane. Furthermore Port of Antwerp's international network will create possibilities for valuable worldwide knowledge sharing and further improvement of the tools developed in the project.
Erwin Verstraelen – Chief digital and innovation officer, Port of Antwerp: "We are very enthusiastic about kicking off the ePIcenter project, which will allow us to create a transcontinental, integrated and transparant freight corridor by leveraging existing and promising technologies, frameworks and data standards. Port of Antwerp and Port of Montreal, both important nodes in the global supply chain, will act as catalyst for symbiosis amongst the different stakeholders."
Annick De Ridder, vice mayor of the Port of Antwerp: "The future of our port and its prosperity goes hand in hand with the power of innovation. We are proud to play a pioneering role and to serve as a laboratory for innovation. Today more than ever it is important to make our global supply chain more resilient to an evolving and volatile world with a variety of challenges."
Water Witch fights ocean plastic pollution with electric clean-up boats
Listen to the story (FreightComms AudioPost)
Water Witch has been building specialised clean-up boats for over 50 years, with some 200 debris and trash retrieval workboats deployed in harbours and waterways around the world. More than just an eyesore, it's estimated that 300 million tons of plastic have entered the water since the 1940s, harming marine life and damaging ecosystems on which humans rely. Harbours are often the last opportunity to intercept plastic before it enters the ocean, where it is much more difficult to remove.
The Liverpool-based boatbuilder has announced that Torqeedo electric power is now offered as a replacement for the standard four-cycle outboards on its whole range of Versi-Cat litter collection craft and pontoon workboats. "This is a clean, green, safe, zero-emission solution with long life, low maintenance and minimal operating costs," said Water Witch director Jackie Caddick.
THE RESPONSE FROM CUSTOMERS, ACCORDING TO THE COMPANY, HAS BEEN OVERWHELMINGLY POSITIVE.
"From high-end marinas to commercial harbours and even hydro-electric dams, the environmental benefits of a completely zero-emission solution have really sparked interest," said Caddick. "In fact, many of our owners are also enquiring about converting their existing vessels to an all-electric drive. Retrofitting is very easy, basically just a straight swap. It's a very cost-efficient option, and backed by the support of Torqeedo's extensive worldwide warranty and after-sales support."
This year, Water Witch is introducing a new, larger 8.0-meter boat to its Versi-Cat series with Torqeedo electric power as standard fit. The new model has a more traditional hull shape, which is designed to improve transit speeds to 10-11 knots using the same propulsion and provide better seaworthiness for operating in coastal waters. The new design also offers a more varied range of functions, including oil spill response. "We have been impressed with the reliability and advanced technology of the latest Torqeedo electric mobility range," Caddick said. "We are passionate about the environment, and we see this technology as a critical step towards being carbon-neutral in our efforts to keep plastic pollution from entering our oceans and landing on our beaches."
"The main advantage of working with Torqeedo is, as a builder and vessel designer, we benefit from the engineering and technological developments put into the products, their highly efficient performance and reliability, and most importantly a cost-effective option for electric drive," she added. "And the support available for professional installers is very impressive."
Caddick believes that electric mobility will be the wave of the future for their specialised vessels. "Clients are increasingly looking towards green technology to support their water and waste management services, reduce their dependence on fossil fuels and create a better environment for their own stakeholders. We believe our fully electric solutions meet all these goals."
"It just makes good sense that a boat working to clean up pollution should not add to the problem by causing pollution in the water or through emissions."
Wärtsilä to design and equip two zero-emissions battery powered ferries
Listen to the story (FreightComms AudioPost)
The technology group Wärtsilä's experience and leading position in the development of battery and hybrid propulsion vessel solutions has been recognised with the award of a contract to design and equip two new zero-emissions ferries. The ships are to be built for Norwegian operator Boreal Sjö at Holland Shipyards in the Netherlands. The orders with Wärtsilä for the design and the equipment were placed in April 2020.
The Wärtsilä ship design is tailored to the operating and route profiles of the two double-ended shuttle ferries. Included in the design concept is the optimisation of energy consumption.
In addition to the design, for each ferry Wärtsilä will supply the thruster motors, batteries, onboard and shore-based battery charging equipment, the back-up generators, and various electrical systems. The equipment is scheduled for delivery to the yard in the beginning of 2021 and the ships are expected to commence commercial operations in autumn 2021.
"This project is an excellent example of Wärtsilä's extensive capabilities in delivering optimal design and integrated equipment solutions. These battery-powered ferries represent the future in environmental sustainability, and their design is the result of the years of R&D that Wärtsilä has invested in smart marine solutions to lower the carbon footprint of shipping," says René Zuidam, Account Manager, Newbuild Sales, Wärtsilä Marine.
"Both Wärtsilä and Holland Shipyards Group have extensive experience in the electrification of vessels and a shared vision to provide sustainable solutions to the transport sector. The combined expertise of both organizations form an excellent base for a valuable and successful cooperation," says Marco Hoogendoorn, Director, Holland Shipyards.
Having the equipment contracted from a single supplier provides customer benefit also during operation of the vessels, since a single point of contact for maintenance, spare parts and support on the equipment is more convenient than dealing with a number of different companies.
The two ferry designs are not identical. One is for a 30 metres long vessel capable of carrying 10 cars and approximately 100 passengers, while the other is for a 50 metres long vessel for 35 cars and 149 passengers, including crew.
The ferries will serve the Launes – Kvellandstrand – Launes, and Abelnes – Andabeløy – Abelnes routes in Norway.
Haifa Port Company successfully migrates Navis N4 TOS with remote assistance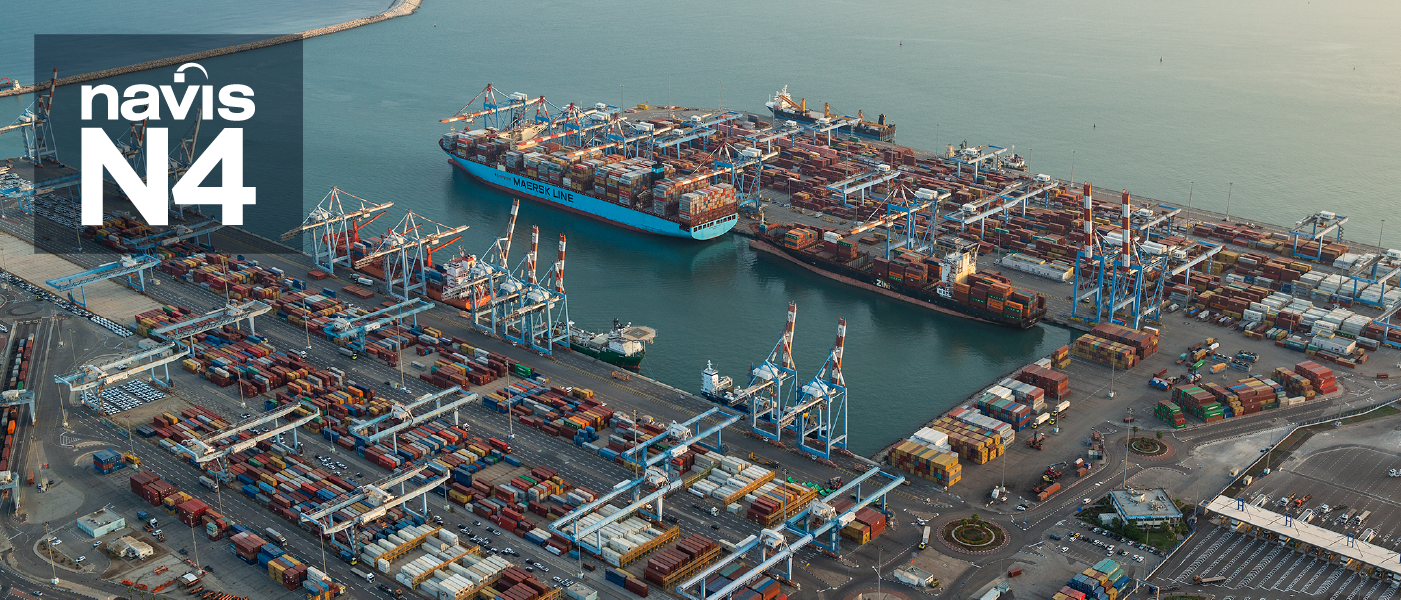 Listen to the story (FreightComms AudioPost)
Navis, a part of Cargotec Corporation, and the provider of operational technologies and services that unlock greater performance and efficiency for leading organizations throughout the global shipping industry, today announced that Haifa Port Company has successful completed their N4 migration project with remote support from Navis.
Located in northern Israel, Haifa Port Company is the largest port in the region, operating at 1.4 million TEU and handling over 25 million tons of cargo, annually. Due to future growth expectations and the demand to add new terminals to the company, Haifa Port Company initiated a project to merge facilities that historically operated as independent operations into one integrated terminal with common equipment, processes and IT management, all overseen by a single management team.
As a result of the pandemic, the Navis team could not be on-site to complete the go-live. However, with the full support and hard work of both the Navis and Haifa Port teams, they were able to overcome challenges and complete the project on schedule.
"These COVID-19 delays and restrictions will continue to dominate businesses over the next few months and beyond. We didn't want COVID-19 to hold us back from our projects and plans, especially upgrades that can help make day-to-day activities at our site more efficient," said Oded Orr, Project Manager at Haifa Port Company. "After making the shift to an N4 single-facility remotely, we have already seen great results and are now able to operate out of our new terminal successfully."
"Our job at Navis, is to work with our customers to find solutions that help them optimize their businesses to help them reach their goals," said Jacques Marchetti, General Manager, EMEA at Navis. "After working with Haifa Port Company to help them complete their N4 integration project, they are now able to address current operational challenges and have a solution in place to help their business run efficiently as they scale."