Port of Oakland import volume rebounds, exports keep going up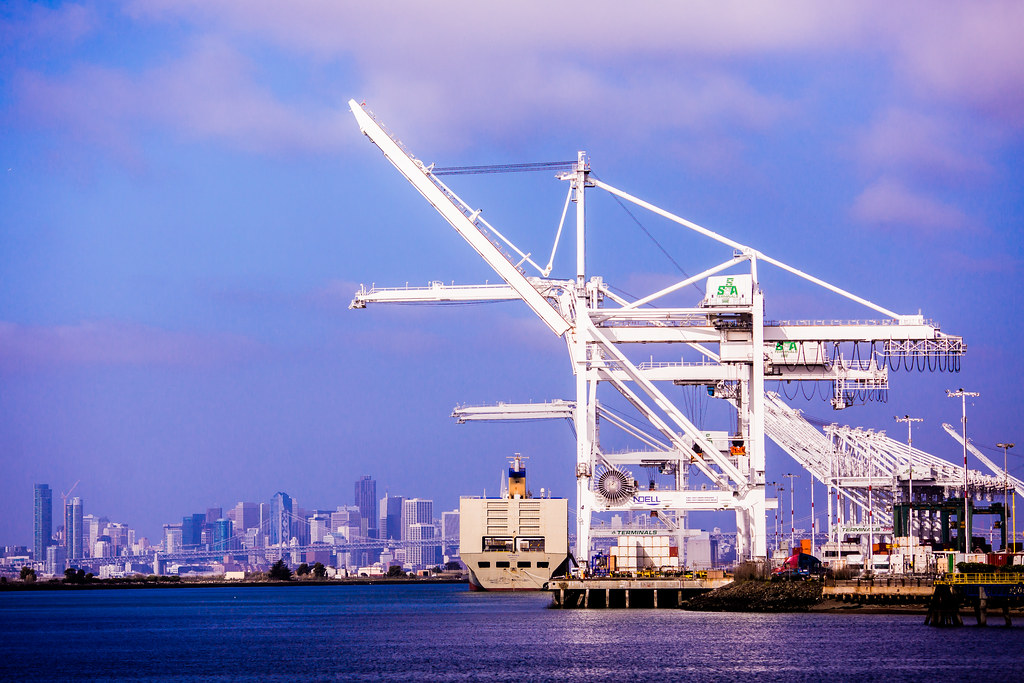 Listen to the story (FreightComms AudioPost)
Port of Oakland containerized import volume jumped 7.3 percent last month over January 2019 totals, according to data released today.  Exports were up, too, the Port said, lifting hopes for recovery from a U.S.-China trade war. One question remained, however: would concern over the fast-spreading coronavirus dampen trade growth?
"It's possible," said Port of Oakland Maritime Director John Driscoll.  "The uptick in January was encouraging but we're hearing from shipping lines that cargo volume could moderate over the next few months."
Oakland's year-over-year import volume increase in January followed three straight months of decline, the Port said.  Exports rose 3.3 percent in January, up for the fourth straight month.  The Port said consumer demand – both in the U.S. and Asia – spurred cargo volume increases.
The Port's results followed a January trade agreement signaling a break in the U.S. tariff skirmish with China.  The agreement included a commitment by Beijing to increase purchases of U.S. farm goods.  That was good news for California and Midwest agricultural exporters who use Oakland's port as their gateway to Asia.  But the coronavirus outbreak that initiated in China blurs the trade outlook.
Quarantines and other emergency measures have slowed Chinese manufacturing output, according to reports.  As a result, shipping lines are canceling some springtime voyages to the U.S.  The Port said it could take several months to determine the impact of the contagion on global supply chains.
The Port reported that its total January cargo volume – including imports, exports and empty container repositioning – declined 0.6 percent.  It said that it handled 17.7 percent fewer empties in January than in the same period last year.
Valenciaport receive more than 1,000 images for the exhibition-tribute in memory of the Covid-19 crisis
Listen to the story (FreightComms AudioPost)
The Port Authority of Valencia has received more than 1,000 photographs to celebrate the exhibition-tribute to society in the form of images showing the day-to-day adaptation to the health emergency caused by the Covid-19. An initiative that includes photographs sent by all kinds of people and that shows in an illustrative way how the Coronavirus pandemic is being dealt with from different points of view, with snapshots that reflect aspects such as the actions of health personnel, teleworking, confinement, adaptation to de-escalation, etc. Images that show the capacity of human beings to face a situation that has changed our routine and show the solidarity and pain caused by the pandemic.
The PAV wanted to involve the whole society to participate in this tribute and therefore has requested the collaboration of Agrupación Fotográfica Valenciana, Foro València Foto and Foto Club València to reinforce the exhibition of photographs that will be held in the Clock Building in the Port of Valencia. The photographs can be sent until July 1st to the email address [email protected]valenciaport.com
To date, the Port Authority of Valencia has received more than 1,000 images that can be seen in an online exhibition on the website www.valenciaport.com. This initiative will culminate in an exhibition in the Clock Building, an emblematic place in the city of Valencia that is becoming a cultural reference point, of a selection of images that will be taken by professional photographers: José Aleixandre, José Penalba, Alba García, Antonio Alcaraz, Eva Mañez, José Poveda and Tania Castro.
Alfa Laval signs three-year frame agreements for ballast water treatment systems to support maritime industry 
Listen to the story (FreightComms AudioPost)
Alfa Laval – a world leader in heat transfer, centrifugal separation and fluid handling –has signed two frame agreements, running over the coming three years, for ballast water treatment systems. The agreements comprise firm orders to deliver Alfa Laval PureBallast 3 to about 40 vessels, with options covering another 40 systems.
Even as the shipping industry has been heavily hit by the current pandemic, Alfa Laval has continued working closely with its marine customers to secure their daily operations and keep them prepared for tomorrow.
"We are proud to have secured these orders – especially in these challenging times," says Sameer Kalra, President of the Marine Division and continues; "This confirms PureBallast 3's status as a market-leading solution, while also proving that our focus on business continuity has been successful. We have worked hard to ensure that we remain close to our customers and can support them when they need us, despite the limitations imposed by the pandemic."
The value of the firm orders is approximately SEK 100 million, including Alfa Laval PureBallast 3 systems and in some cases, also deck houses and booster pump units. The orders will be booked in the Marine Separation & Heat Transfer unit.
U.S. Department of Transportation grants $19.8 million to expand container terminals of Port Tampa Bay
Listen to the story (FreightComms AudioPost)
Port Tampa Bay received a $19.8 million grant as part of the US Department of Transportation's INFRA Grant program. This program recognizes innovative projects that improve our nation's infrastructure in the critical areas where transportation networks intersect.
Port Tampa Bay will use the grant money to complete the Berth 214 project, which is the definition of an ideal intermodal project due to its ability to connect cargo that arrived by ship to road or rail. Port Tampa Bay will use the grant to expand its container complex. With this INFRA grant, the port will meet existing market demand by expediting construction of a new, 1,300-foot-long berth and a 30-acre container yard. Florida importers and exporters, manufacturers and other producers will benefit, and there are considerable emissions reductions, improved safety measures and other economic benefits.
"This grant, combined with Port Tampa Bay and Florida's investment, will provide long term-term benefits for the logistics supply chain as Florida's population growth continues to grow. I want to thank Department of Transportation Secretary Elaine Chao for awarding our port the INFRA grant so that we can continue to expand service to our community and region," explained Paul Anderson, Port Tampa Bay President and CEO.
This project is Port Tampa Bay's top priority and is a project of regional and national significance. In addition to the INFRA grant, the project will be completed with funding from the state, federal government, and the port.
Port Tampa Bay has seen unprecedented expansion in our containerized cargo business lines recently, and this project will complement that growth. These funds will be used to expand our container capacity by 60 percent, increase the number of deep draft container vessels the port can receive, improve efficiency with a state-of-the-art truck gate, and improve rail access. As we celebrate 75 years of consistent growth and success at Port Tampa Bay, projects like this will continue to provide generational impacts for our region.