sennder joins forces with Everoad to anchor its position as leading European digital road freight forwarder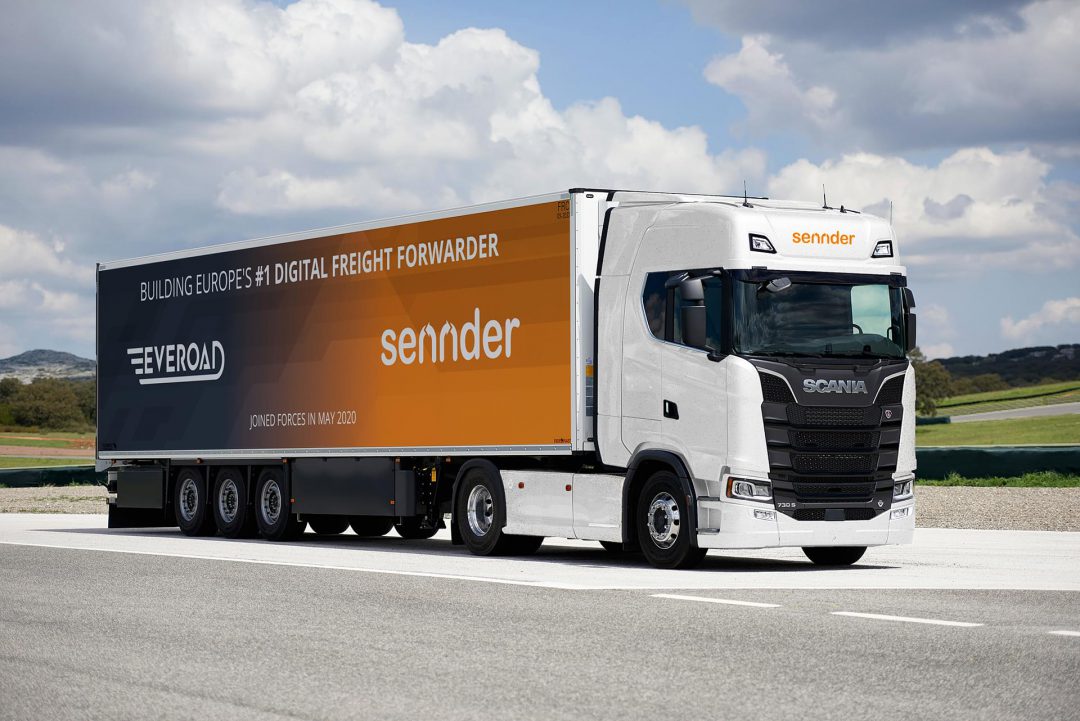 Listen to the story (FreightComms AudioPost)
sennder, European leader in the digitalization of road freight transport, today announces its merger with French freight tech company Everoad. The strategic alliance is the foundation to build Europe's largest digital road freight forwarding platform to facilitate the relationship between shippers and carriers. Their proprietary technology connects large enterprise companies with small trucking firms and will ultimately improve the image of freight logistics by reducing its environmental impact and set the agenda for a sustainable industry.
Succeed as a team
Since its foundation in 2015, sennder has strived to revolutionize the world of freight transport in Europe. By joining the ranks with its French counterpart, Everoad, they will further expand their geographic growth journey with local presences across all major logistics and transport hubs.
With offices across six countries, Europe's two largest digital freight forwarders, lead the way in digital logistics and transportation completing over 35,000 loads per month. sennder and newly formed "Everoad by sennder" now have a 350 people strong team and an extensive network of 10,000 carrier partners and large enterprise customers. Since founding, Berlin-based sennder and "Everoad by sennder" have raised over EUR 120m from leading investors including Accel and Lakestar to consolidate the trucking market.
Contributing to an impactful ecosystem
With the road freight market valued at nearly EUR 400bn in Europe, sennder and "Everoad by sennder" aim to achieve revenues of EUR 1 billion by 2024. To reach this ambitious target, the two freight logistics specialists will pool their technology and know-how to optimize all the stages of the supply chain. Their digital solution, which is aimed at both carriers and shippers, reduces inefficiencies in the shipping process and allows both reduced costs for shippers and increased revenue for carriers.
Mobilizing technology for the environment
Trucks represent 6% of the European Union's total CO2 emissions. Digital freight forwarders will therefore have a strategic role in reducing carbon emissions in the sector, starting with the reduction of 'empty miles' (20% of the kilometers travelled). To meet this challenge, sennder and "Everoad by sennder" will harness technologies – algorithms based on machine learning – to optimize capacity allocation and continue to offer greener services, as well as carbon offsetting with strategic partners to carriers and shippers.
David Nothacker, CEO and Co-Founder of sennder GmbH, says: "With Everoad, we share a vision, DNA and common goals. In the midst of this international crisis caused by COVID-19, road freight has demonstrated its inimitable, strategic role in transporting essential goods. It now makes more sense than ever to join forces and integrate Everoad into the sennder group. In that way, we can jointly invest resources and knowhow to tackle the new challenges and opportunities emerging out of the crisis."
Maxime Legardez, CEO and Founder of Everoad, adds: "Our objective was the same: to create a European industry champion within the freight forwarding and logistics industry. By merging with sennder, we achieved this target and can also contribute to reducing the environmental impact of the industry. By becoming 'Everoad by sennder', we will share our expertise and experience acquired over more than four years of a pan-European vision."
DP World successfully concludes acquisition of TIS Container Terminal, Ukraine
Listen to the story (FreightComms AudioPost)
Dubai-based provider of worldwide smart end-to-end supply chain logistics, DP World, with a global network of 123 business units in 54 countries, has announced the completion of its acquisition of a 51% stake in TIS Container Terminal in the Port of Yuzhny, Ukraine. This follows satisfaction of specific conditions including confirmation of regulatory approval from the relevant government authorities.
This project will be DP World's second partnership with TIS shareholders, the first being our very successful partnership in the P&O Maritime Ukraine which provides harbour towage services in the principal Black Sea ports in the Ukraine. DP World's global strategy is to become a trade enabler and solutions provider as the company looks to participate across a wider part of the supply chain.
DP World has invested significantly across its Ports, Logistics & Maritime Services businesses. The aim is to connect directly with customers to offer logistics solutions and remove inefficiencies in the supply chain to accelerate trade. This acquisition will expand DP World's operations as well as strengthen TIS Container Terminal as one of the key market leading purpose-built terminals in Ukraine by leveraging DP World's global network of ports, economic zones, warehousing and inland logistics solutions.
Furthermore, this acquisition helps make Ukraine's trade more resilient during challenging economic times and gives DP World the potential to offer a unique Black Sea product by linking its terminals in Constanta and Yarimca with TIS Container Terminal using its Unifeeder network. This suite of trade enabling solutions, coupled with our technology to remove inefficiencies in the supply chain, offers cargo owners the ability to deploy their cargo strategically across essential trade lanes that serve Eastern European markets and complement DP World's existing portfolio in Romania and Turkey.
The Ukrainian container market growth of over 20% in 2019 is an attractive market to enter. TIS Container Terminal with excellent maritime and landside connectivity including the market leading rail connectivity is a the ideal facility for DP World in the country. Following DP World's acquisition of SeaRates.com, a digital platform that enables customers to transport cargo worldwide, along with LandRates.com and AirRates.com.
DP World has also created the Digital Freight Alliance which is an online association that brings freight forwarders globally onto one platform, giving them access to new tools, routes and services, and enabling them to do more business anytime anywhere, which can be harmonised with DP World's Ukraine footprint.
Under the terms of agreement, DP World has acquired a majority stake and will take control of the terminal operations going forward. DP World will be a key player in the region and will look to expand the catchment of the terminal using its market leading rail connectivity.
Commenting on this important step forward, Sultan Ahmed Bin Sulayem, Group Chairman and CEO of DP World, said, "Today ushers in a new and promising era, as we expand our global portfolio in Ukraine. We are excited about this important milestone and this acquisition supports our long-lasting commitment to enabling global trade. This acquisition establishes DP World in a highly attractive market, we look forwar to contributing our experience, expertise and resources to the continued development and growth of the TIS container terminal. In so doing, we will look to build on and expand the commercial success that TIS Container terminal has achieved".
Descartes acquires Kontainers
Listen to the story (FreightComms AudioPost)
Descartes Systems Group, the global leader in uniting logistics-intensive businesses in commerce, announced that it has acquired Cracking Logistics Limited dba "Kontainers", a leading provider of client-facing digital freight execution platforms.
Headquartered in the UK, Kontainers transforms the customer experience for carriers, freight forwarders and third-party logistics service providers around the world. Kontainers' solutions facilitate a fully digital customer experience including quoting, booking, tracking and dashboard analytics.
The company's digital freight platform enables these logistics services providers ("LSPs") to rapidly create branded state-of-the-art digital experiences for their end customers. Kontainers' technology also helps API-enable LSPs while preserving their investments in existing rate management and back-office systems.
"We've worked very hard with some of the world's top logistics companies to create an optimal digital customer experience," said Graham Parker, co-founder of Kontainers and now VP Sales Digital Freight Solutions at Descartes. "Our team of domain experts is thrilled to combine with Descartes, which will give us the opportunity to reach a broader audience much more quickly. When added to the Global Logistics Network, we'll also have the ability to offer a pre-integrated solution that combines Kontainers digital freight execution with Descartes' rate management and forwarder enterprise systems"
"The last few months have shown how quickly the world can change, and the shift to digitization is accelerating as a result," said Edward J. Ryan, Descartes' CEO. "Logistics services providers operate on tight margins. Those that don't move quickly to digitize their customer experience will be faced with higher costs to serve. Without the proper real-time connections between client-facing platforms and the quoting, rating and booking systems that this digitization brings, LSPs will struggle to efficiently meet customer demand in today's dynamic market. We're looking forward to working with the Kontainers customers, partners and team of domain experts to help the logistics community capitalize on this opportunity."
Kontainers is headquartered in the UK. Descartes acquired Kontainers for total consideration of up to $12m, with up-front consideration of $US 6.0 million, plus potential performance-based consideration. The up-front consideration was satisfied from cash on hand. The maximum amount payable under the all-cash performance-based earn-out is $US 6.0 million, based on Kontainers achieving revenue-based targets in each of the first two years post-acquisition. Any earn-out is expected to be paid in fiscal 2022 and fiscal 2023.
Navig8 group announces the merger of ship management services to Suntech Maritime
Listen to the story (FreightComms AudioPost)
The Navig8 Group is pleased to announce that from 15 May 2019 its Ship Management division, which provides technical management services to customers worldwide, will come under independent management to create a new company – Suntech Maritime.
Through a private transaction, Suntech will be led by the two former owners of Selandia. Navig8 will remain a core investor of Suntech. The change will enable the ship management services to expand independently of the Navig8 Group.
The current Navig8 Ship Management staff will be retained and transferred to Suntech, including the crewing office in Mumbai.  Suntech will start operating with the 40 ships currently under the management of Navig8 Ship Management. Customers will experience no change in their services and zero disruption during the transition to Suntech. The current DOC will remain in place.
The two incoming Suntech Partners are Capt. Naren Bhatt and Capt. Umesh Thakore, the former owners of Selandia. Both have a proven record of building a successful, first-class brand within the Ship Management sector.
Mr Gary Brocklesby of Navig8 says, Navig8 has a long heritage of providing the highest quality technical management services to shipowners globally. When considering this transaction, it was fundamental that we found experienced Partners who will uphold our strong technical foundations and customer service values.
Transferring to independent management will enable the ship operations to advance to the next level of development, through expansion plans, even greater customer service and the highest standards.
Under the superb leadership of Capt Prashaant Mirchandani, the former head of Navig8 Ship Management, the division's activities have expanded substantially, including a significant focus on Newbuild Supervision.
Capt Prashaant is a highly valued manager and innovator, and the wider Navig8 Group can now benefit from his expertise by leading a number of initiatives related to IMO 2020 and beyond. We are excited about this next stage of development for Suntech and for the Navig8 Group.
I would also like to take this opportunity to thank our Ship Management team for their hard work and dedication and wish them well for an exciting future under the new management team.
https://freightcomms.com/navig8-group-announces-the-merger-of-ship-management-services-to-suntech-maritime/