Sinopec puts China's largest petrochemical port into operation
Listen to the story (FreightComms AudioPost)
Sinopec Corp, China's leading energy and chemical company, has put China's largest petrochemical port into operation with the successful docking and unloading of the New Renown, Crude Oil Tanker (VLCC) from the Middle East. The tanker was welcomed at the new 300,000-ton crude oil terminal of Sinopec Zhongke Refinery Port, which forms part of the company's industry-leading "front terminal, rear plant" production model.
Housed 1,100 meters from Sinopec's refinery plant, the petrochemical port features eight terminals including a 300,000-ton crude oil berth, 100,000-ton oil berth and supporting facilities — providing a total capacity of 34 million tons per year. To date, the 100,000-ton berth is the largest domestic refined oil terminal with a loading and unloading capacity of 5.61 million tons per year. The terminal provides convenient access to refined oil and chemical products for Sinopec's core domestic market, while also offering direct opportunities for global exports and enhancing Sinopec's competitiveness within the industry.
Situated on the east coast of Zhanjiang, Guangdong Province, the Sinopec Zhongke Refinery Port is part of Zhanjiang Integrated Refinery and Petrochemical Complex — the biggest project of its kind under construction by Sinopec Corp, and a key component of the Guangdong Province's 13th Five-Year Plan. The total investment of the first phase of the project totals more than 40 billion CNY and will add over 10 million tons of refined crude oil capacity and 800,000 tons of ethylene units per year, in addition to auxiliary supporting facilities.
Following its completion, it's estimated that the output of the refinery will exceed 60 billion CNY. Additional output will aid the development of the downstream industrial chain of the refining and chemical industry, while injecting new momentum for the economic development of the Greater Bay Area.
At present, there are more than 18,000 builders currently working on-site as part of the project, and 28 of the 30 major production facilities have been delivered. The final project is expected to be fully completed and put into production by the end of July.
Rovco purchases Seaeye Leopard work-class ROV, expanding their service offering to customers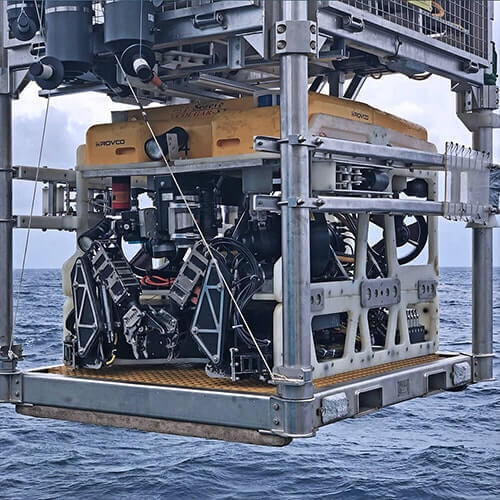 Listen to the story (FreightComms AudioPost)
We are pleased to announce our recently purchased Saab Seaeye Leopard. As one of the offshore energy industry's leading providers of ROV and hydrographic services, coupled with artificial intelligence-based technology, this investment adds to our growing fleet of ROVs, expanding our subsea capability and capacity much further.
The purchase of the Seaeye Leopard is the latest investment in our asset pool, which strategically increases our capability to serve a growing number of customers.
This high-performance electric "Fast ROV" work-class platform, known to function well in difficult conditions, increases our service offering to support wind farm installation and maintenance projects throughout the lifecycle of subsea related tasks.
Our aim is to serve customers' needs in areas such as construction support, seabed, cable and pipeline investigations and intervention, and this vehicle backs up the Teams' capability to deliver on its £15m+ pipeline of upcoming work and will bolster the range of our already growing portfolio of subsea projects.
The Seaeye Leopard is designed to offer customers an exceptionally powerful electric work-class ROV. The Leopard's technical features and impressive performance, enables greater workability and station keeping, opening up wider operational weather windows, and thereby increasing project efficiency through reduced downtime.
The vehicles' design along with a compact Launch and Recovery spread, allows for fast mobilisation and demobilisation to and from a wider range of vessels without the need for extensive modifications to the deck to support the setup. The all-electric design combined with these typically smaller host vessels helps reduce project CO2 emissions and lowers the overall cost of projects to Rovco's customers.
Simon Miller, our General Manager said: "We are extremely proud to have purchased this great asset. The Seaeye Leopard provides us with an extremely capable, multi-purpose work-class ROV, which is the perfect platform to support our immediate customer needs and future campaigns. The system will be put to work straight away on offshore wind projects throughout the summer, and will bring great operational benefit and efficiency to our planned campaigns"
Formed in 2015, we are changing the way offshore work is performed and is investing heavily in further research and development. As a company, we have the resources and expertise to work across the globe, using cutting edge technology to drive time and cost-saving project efficiencies.
Intellian's v85NX antenna system gains Telenor Satellite Thor 7 type approval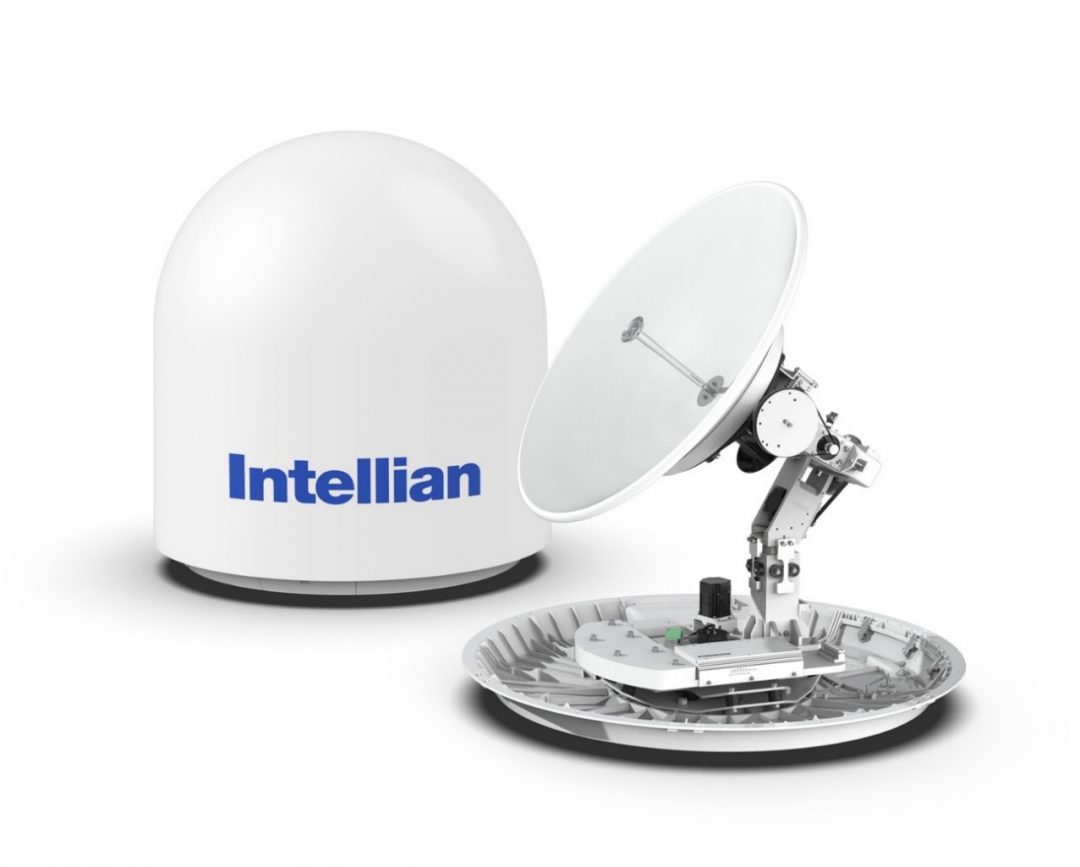 Listen to the story (FreightComms AudioPost)
Intellian is delighted to announce that its v85NX antenna has earned type approval for Telenor Satellite's Thor 7 Ka-band service, following successful sea trials. Significantly the v85NX – which is the first 85cm antenna to be certified on the Thor 7 network – will benefit from the same airtime pricing as 1m antennas. As service provision for smaller antennas is usually more expensive owing to their lower gain, this recognizes the outstanding performance of the v85NX and makes it a competitive choice for customers looking for a compact design with low capital and operational expenditure.
Offering up to 25 simultaneously active spot beams, the Thor 7 service is designed to provide optimal HTS Ka-band VSAT connectivity across Europe, covering busy shipping lanes in the North Sea, Norwegian Sea, Barents Sea, Baltic Sea and Mediterranean Sea. Jan Hetland, Director, Data Service Division at Telenor Satellite, said: "We're delighted to welcome Intellian's v85NX antenna to our leading Thor 7 service. A satellite service providing high-powered performance for maritime applications requires premium hardware, and Intellian's NX Series systems have a range of attributes which position them at the forefront of antenna technology, reflecting Telenor Satellite's forward-looking service provision. We look forward to working together in delivering outstanding global communications to our loyal customers."
The RF design of NX Series antennas outperforms rival products, resulting in unmatched data rates. A major advantage is that dual antennas – often employed to avoid the satellite being obstructed by vessel superstructure – may be easily configured thanks to the mediator built into the ACU. Before, a separate mediator unit was required.
The antennas can be easily converted between Ku- and Ka-band by swapping out the center-mounted RF assembly and feed, and there is also a range of BUC options – 5W and 10W for Ka-band and from 8W to 25W for Ku-band – which  are interchangeable with no need to rebalance the system following their installation.
Eric Sung, Intellian CEO, commented: "This certification from Telenor Satellite, and the competitive price bracket in which Telenor has placed the v85NX, underlines the performance and versatility of our NX Series antennas. New customers can purchase a v85NX antenna pre-configured for Ka-band off the shelf, while users who already own a v85NX antenna on a Ku-band network can easily convert it to Ka-band operation for use with Thor 7. We are delighted to join with Telenor in facilitating flexible, high-speed communications across Europe."
NX Series antennas are shipped pre-slung to facilitate installation, and the use of modular components common to the entire antenna range has cut the number of spare parts required by up to 40%. This in turn simplifies maintenance, enhances reliability and brings about further cost savings for end users.
Port of Gothenburg container traffic in full flow as European ports falter
Listen to the story (FreightComms AudioPost)
Ports throughout Europe have been hit hard by the current Covid-19 pandemic. This can be seen clearly in the recently published volume statistics from Europe's largest ports. They are also feeling the knock-on effect of cancelled calls – in many cases up to 30 per cent. In contrast, the Port of Gothenburg has increased its container volume, there have been no cancelled calls, and none are planned.
Figures published by the port authorities reveal that container volumes at the 10 largest ports  in Europe fell by an average of five per cent during the first quarter compared with last year. In contrast, container volumes at the Port of Gothenburg increased by eight per cent during the same period.
"The European trend is striking although at the same time we are particularly proud that thanks to our consistently high level of customer service and a flexible and developed product offering we have emerged unscathed," said Dennis Olesen, chief executive of the container terminal operator APM Terminals Gothenburg.
According to Elvir Dzanic, Port of Gothenburg chief executive, the open approach adopted by Sweden to the world, and the fact that Swedish industry has continued to export during the Covid-19 pandemic, are further factors that make the Port of Gothenburg the exception in the European port statistics table.
No cancelled calls in Gothenburg  
Large numbers of calls by ocean-going vessels were cancelled at European ports during the first quarter, disrupting freight flows. In Gothenburg, no direct calls have been cancelled – services to and from Asia using the world's largest vessels have continued, week in, week out.
"Weekly services between Gothenburg and Asia have proved to be the most important lifeline for Swedish imports and exports. Ensuring traffic continues without disruption is vital. And we also see more goods able to become rail born and move through Gothenburg, which is reassuring as it brings continuity to Swedish trade with the world," said Dennis Olesen.
Despite the difficulty of predicting when the Covid-19 pandemic might end, Elvir Dzanic is upbeat about the future, both for the port in general and for container traffic in particular.
"As we were among the first to react to the Covid-19 pandemic, with quick, decisive measures early on, we were able to assure access to this major freight hub, allowing us to stay focused on the road ahead. Together with the other companies at the port we are working ceaselessly to satisfy the needs of the market through a series of key initiatives, including deepening of the fairway, enhancing transshipment potential, and expanding the port's rail concept, which is already one of the most successful in the world," said Elvir Dzanic.