Wilhelmsen makes landmark commercial delivery of 3D printed parts to Berge Bulk vessel
Listen to the story (FreightComms AudioPost)
Berge Mafadi, a Berge Bulk vessel has received the world's first commercial delivery of 3d printed scupper plugs, as part of Wilhelmsen's Early Adopter Program.
The program, where customers have exclusive access to on-demand additive manufacturing was launched by Wilhelmsen's Marine Products division in December 2019. Customers include Berge Bulk, Carnival Maritime, Thome Ship Management, OSM Maritime Group, Executive Ship Management and Wilhelmsen Ship Management. 
"We are very excited with this milestone – completing one of the first commercial deliveries of 3D printed parts in the maritime industry," says Hakon Ellekjaer, Head of Venture, 3D Printing, Wilhelmsen Ships Service. Adding, "This is just the beginning of the journey, and we are quickly expanding our offering, together with our key development partners, enabling our customers to benefit from the savings provided by 3D printing, digital inventory and on-demand localized manufacturing."  
Wilhelmsen, as part of their ongoing cooperation with Ivaldi Group, is providing spare parts on demand to the selected six customers' vessels around the globe. Parts in this program are being monitored in close collaboration with class society DNV GL. Through a unique selection, digitization, and documentation process, every part goes through a quality-controlled process where each part is given a print passport number. All necessary documentation relating to the manufacturing, design, and performance requirements of each part is then captured and enclosed with the delivered part. DNV GL, through the Print Passport Number and their published rules and standards, are providing ecosystem assurance to the Wilhelmsen 3D Printing venture.   
 "Wilhelmsen, Ivaldi, and DNV GL are testing a new universal part tracking system for purposes of quality control, part evolution and traceability of parts. The first 3D printed scupper plugs have been given unique identifying codes and are logged in a trial system that should enable tracking throughout the lifetime of the part," says Simon Ratcliffe, DNV GL.  
Wilhelmsen and Ivaldi have delivered several 3D printed parts to the Berge Bulk vessel, and scupper plugs were one of the part categories. There are numerous scupper plugs on a vessel. For convenience and readiness, each drainage hole on the open deck has its own scupper plug. Scupper plugs are used for closing drainage holes to prevent oil spills or other contaminant spills on a ship.  
"Scupper plugs are expensive, and there are no universal dimensions, which means that when you have a broken element, you have to buy a new scupper plug. With additive manufacturing, we are able to procure scupper plugs faster, cheaper and locally. If any part breaks, we can replace that one part instead of the whole unit. We are excited to be part of the Early Adopter Program. On-demand additive manufacturing will revolutionize the spare parts industry" says Sim Teck Siang, Procurement Manager, Berge Bulk.  
 "It is very exciting for us at Berge Mafadi to try out new technology and the possibilities it will bring. Spare parts are currently a pain point, and we have trouble with for instance scupper plugs as they are easily stolen for their brass components. They are expensive, and we are constantly needing to replace them. By replacing them with plastic, we are eliminating any possibility of theft, and best of all, we get them on-demand within a short period of time. We are looking forward to experiencing the expanding offering from Wilhelmsen Ships Service," says Captain Tarun K Gupta, Master of Berge Mafadi.  
 3D printed scupper plugs are equally as functional as traditional versions. In addition, they are also an assembly, which means that if a part breaks, that one part can easily be replaced, instead of the whole scupper plug. Making them available through a digital warehousing solution means they are faster and easier to procure worldwide. It also means, thanks to on-demand manufacturing technologies, that only the exact number of parts required are produced, reducing costs and environmental footprint.   
"A commercial world first is a significant milestone for Ivaldi and our partners and we are grateful to them for taking the leap with us. Humble as the scupper plug may be, we believe it a step in transforming an entire industry: By sending files rather than scupper plugs we are amongst other things able to reduce CO2e emissions on this one part by some 54% and this gives me great hope for the possibility of a more sustainable future for supply and logistics" says Espen Sivertsen, CEO of  Ivaldi Group.   
Delivery of the fourth CLEANBU vessel
Listen to the story (FreightComms AudioPost)
Klaveness Combination Carriers ASA took delivery of the MV Baleen from New Yangzi Shipyard in China. The MV Baleen is the fourth of in total eight contracted CLEANBU combination carriers.
The CLEANBUs are unique vessels both in terms of design, their unprecedented environmental performance, operational and technical efficiency. These vessels have up to 40% lower CO2 emissions per ton mile transported cargo compared to standard vessels, in line with IMO's 2030 targets for shipping.
With the delivery of the MV Baleen, Klaveness Combination Carriers will operate a fleet of 13 combination carriers. KCC has fixed-price options to contract an additional four CLEANBUs for delivery in 2022.
The start of trading of MV Baleen will be delayed due to COVID-19 travel restrictions and quarantine regulations impacting the mobilization of crew. She is scheduled to load her first cargo of caustic soda during 2nd half of September.
MOL introduces FOCUS project part Ⅲ: virtual ship visit application 'Fleet Tour'
Listen to the story (FreightComms AudioPost)
Mitsui O.S.K. Lines, Ltd. today announced the release of the "Fleet Tour" virtual ship visit application using the Ricoh Theta, a 360-degree camera and the Theta 360.biz a virtual tour production service, both from Ricoh Company, Ltd. This is part Ⅲ of the FOCUS Project, following the "Fleet Viewer" application, which monitors vessel operation data, and "Fleet Performance" application that tracks vessel performance.
Ship management companies and operators can browse 360-degree onboard images and videos from anywhere using PCs and smart phones, and intuitively experience various places on the ship as if they were visiting in person.
MOL Ship Management Co., Ltd., an MOL Group core dry bulkship management company, has already adopted the application, in move to enhance the quality of their ship management services.
The MOL Group works to enhance safe operation by comparing fixed points in important areas such as the deck, cargo holds, and the engine room, and horizontally developing group-wide expertise and marine engineering know-how through addition of special notes on photographic images, in cooperation with MOLSHIP and other ship management companies that are familiar onboard operations and procedures.
MOL Group land-based employees have limited opportunities to visit all areas onboard giant vessels over 300m long, especially in relatively short in-person visits. This makes it hard to intuitively grasp the ship structure through drawings and conventional planar images. But the "Fleet Tour" application addresses such issues. In addition, the MOL Group expects this to be particularly effective as an ICT-based approach to vessel inspection, considering the difficulty of conducting in-person ship visits during the COVID-19 pandemic.
Through the FOCUS project, MOL continually strives to expand the development and adoption of applications that use in-service fleet operation data, with the aim of creating applications that grow along with users' needs. The company seeks to offer stress-free transport services with greater safety and reduced environmental impact.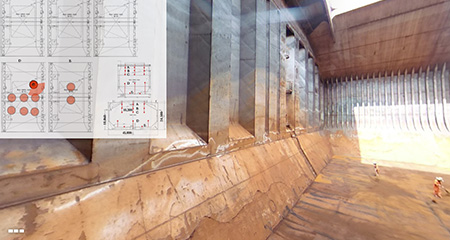 MOL introduces FOCUS project part Ⅲ: virtual ship visit application 'Fleet Tour'. Image: MOL
Castor Maritime Inc. announces vessel acquisition
Listen to the story (FreightComms AudioPost)
Castor Maritime Inc., a global shipping company specializing in the ownership of dry bulk vessels,
announces that it entered, through a separate wholly-owned subsidiary, into an agreement to purchase a 2010 Japan-built Panamax dry bulk carrier for a purchase price of $12.75 million from an unaffiliated third party seller.
The acquisition is expected to be consummated by taking delivery of the vessel sometime in the
end of the third quarter / beginning of the fourth quarter of this year and is subject to the
satisfaction of certain customary closing conditions.
Petros Panagiotidis, Chairman, Chief Executive Officer and Chief Financial Officer of Castor,
commented:
"We are very pleased that we have been able to utilize further our recently raised capital by
agreeing the acquisition of our fifth vessel, in a very short time since the acquisition of our
fourth. We are making swift progress on our expansion and renewal plan that we set in place
last year and are actively continuing to assess the various opportunities presented to us. Our key
goal continues to be the further expansion of our fleet and the deployment of our readily
available liquidity in the most prudent and favorable way for our shareholders."